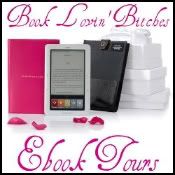 Are you a book blogger with 100 followers or more? Do you want to receive free books to review and be part of a great team? If you answered yes to both of those questions then you should head over to
Book Lovin' Bitches Ebook Tours
to find out more! The concept is simple:
Once a week you'll receive an e-mail with possible tour candidates;
Sign-up for the books you're interested in;
Pick your preferred tour feature (i.e. review, interview, giveaway or guest post);
Post your feature on your scheduled date.
So far I've reviewed: Danann Frost Falls from Grace by Joanne Valiukas, Spiral X by J. J. Westendarp and Gabriel's Mate by Tina Folsom.
Please use my name as your referral if you do decide to join! Thanks! 🙂
About the Blogger
I review Urban Fantasy and Paranormal Romance books with a focus all things werewolf. Based out of Ottawa, Canada
Google+ / Twitter / FB
Related Posts