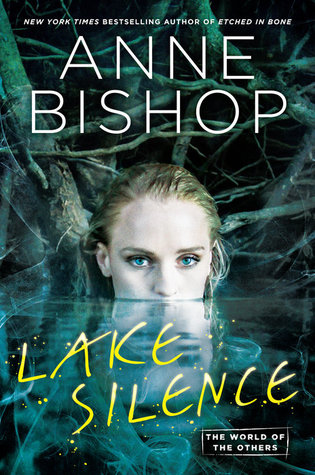 Lake Silence

by Anne Bishop
Series: World of the Others #1
Published by ACE
Published on: March 6, 2018
Genres: Urban Fantasy
Pages: 416
Format: eARC
Source: Publisher

Amazon
|
Book Depo
|
Chapters
|
Kobo
|
B&N
|
iBooks
 |
GoodReads
In this thrilling and suspenseful fantasy set in the world of the New York Times bestselling Others series, an inn owner and her shape-shifting lodger find themselves enmeshed in danger and dark secrets.

Human laws do not apply in the territory controlled by the Others--vampires, shape-shifters, and even deadlier paranormal beings. And this is a fact that humans should never, ever forget....

After her divorce, Vicki DeVine took over a rustic resort near Lake Silence, in a human town that is not human controlled. Towns such as Vicki's don't have any distance from the Others, the dominant predators who rule most of the land and all of the water throughout the world. And when a place has no boundaries, you never really know what is out there watching you.

Vicki was hoping to find a new career and a new life. But when her lodger, Aggie Crowe--one of the shape-shifting Others--discovers a murdered man, Vicki finds trouble instead. The detectives want to pin the death on her, despite the evidence that nothing human could have killed the victim. As Vicki and her friends search for answers, ancient forces are roused by the disturbance in their domain. They have rules that must not be broken--and all the destructive powers of nature at their command.
Anne Bishop had her work cut out for her with this one. Her Others series was phenomenal and I couldn't imagine a spin-off being quite as good. This is not a continuation of Simon and Meg's story-even if I did go into this book wishing that were true. However, it is a continuation of the world of the Others, only with new characters. There is the occasional mention of previous characters, but this one takes place in a completely different part of the Other's world. I ended up being very happy that this is still a world I could disappear into.

Sproing is a small human controlled village, or so human's think. A large tract of land called the Jumble is situated on Lake Silence outside the village and Vicki DeVine has been rehabbing the large home on the land. Since it was a part of her divorce aggreement, it's pretty much all she came out of the divorce with. It also happens to sit in the middle of terra indigene(known as The Others) territory. When her ex-husband decides he wants the land back for his own nefarious purposes, he and his partners begin the push to get the property away from her. Problem? The terra indigene like her and want her there-her husband? Not so much.

Vicki DeVine is very broken after her divorce. Her husband was an abuser both of words and actions, although he stopped short of hurting her physically. Doesn't matter, she still suffers from panic attacks and self esteem problems. She has found meaning in her life at the Jumble with her plans for a hotel type establishment, complete with cabins. She is becoming close friends with Julian Farrow, an ex-cop, now bookstore owner in Sproing. He has his own problems after being nearly killed for being an intuit. Intuits get feelings for places and can tell when something is wrong or if something is about to happen. Also introduced, is Aggie, a member of the Crowgard, who is now Vicki's lodger and friend-of sorts. Rounding out the main characters is new temporary police chief of Sproing, Wayne Grimshaw. He's one of the good guys. Of course, there are other good people introduced. And the villains were suitably horrible.

Although Vicki and Julian were becoming close friends, there is no romance-yet anyway. However, in the future, who knows? Personally, I would like to see that, but I do know that Vicki has been hurt horribly by her ex-husband and it will take awhile. I thought that was something really realistic about this story. Also more realistic than in most books, Vicki isn't very attractive. I liked how her caring personality and ways made her attractive in a better way.

For those that haven't read the previous books, The Others are actually animals or creatures that can shift into human form if they have to, even though they prefer not to. A complete spin of the man to shifter, instead, the animal to man. Most barely tolerate humans, especially after what happened when a movement by humans to go against the terra indigene went south in the worse way a year before. The creatures own the land and control the utilities including water. I enjoyed the new forms of the terra indigene and new Elders the author has created in this book, as well. Elders are the worse of the worse. If you see them, well, that pretty much means you have angered them and then you are no more. And it's never pretty.

Well written and fairly well paced, I thought this book a good addition to Bishop's Others series. I admit that it took me a bit longer to get used to the new characters and get invested in the story, but the Others world finally managed to pull me right back in. Have to admit it though, I missed Simon and Meg and yes, I do know their story is done. Still. All that being said, I thoroughly enjoyed being back in The Others world and can't wait for the next one-if there is one. Highly recommended to urban fantasy or fantasy readers. Well worth the wait!
Related Posts