How I Finally Discovered FACE OFF:
If you read Wednesday's bookfessional, you know that I was nursing a killer book hangover . . .
Yeah, it's hasn't gone anywhere.
I've set a goal for myself to attempt to read something this weekend, but I'm not holding my breath.
In the meantime, PINTEREST.
I haven't been active on my Pinterest account in like a year. At least. But when I was active, I used my inordinate number of "secret" boards to pin the multitudes of various things with which I oh-so-considerately didn't want to flood your feed.
I'd discovered that if over 24 hours had elapsed since you first pinned something, you could move a pin from a secret to a public board without it showing up in your (or anyone else's) feed.
I have no idea if that's still true. It's entirely possible that (if you follow me) you've been flooded with the random crap that I've been liberating, but I think I'm good, b/c I haven't gotten an irate text from my sister about flooding her feed with the random crap I've been liberating over the past couple days. *crosses fingers*
So I'm consolidating boards with various fantastical type things, and I start noticing these friggin' awesome . . . Costumes? Cosplayers? I didn't know what the hell they were, just that they were creatures worthy of being characters in actual SFF movies.
Then I started noticing that a lot of them were labeled as so-and-so's "Spotlight Challenge," and eventually one was also labeled "Face Off."
Face Off? Hmm . . . It sounded kind of familiar, but I'd never thought of it in the context of friggin' awesome creatures.
So I googled it. Which is how I learned the show I'd occasionally seen in connection with the Syfy network but had written off (b/c reality show) was the source of all the awesome pins that had been mesmerizing me.
IN MY DEFENSE, I really hate reality shows.
I boycott them on principle. I steer clear of THE BACHELOR, SURVIVOR, REAL HOUSEWIVES, etc. in all their incarnations, and I'm happier for it. If you like them, that's cool. I don't judge. A not insignificant factor in deciding to avoid reality shows is my suspicion that they're highly addictive, and I don't need another addition. Between books, superhero everything, and diet dr. pepper, I've got all the addictions I can reasonably manage.
That being said, the one reality show I did get into was PROJECT RUNWAY.
You guys . . . FACE OFF is like PROJECT RUNWAY for special effects makeup artists.
O.
M.
G.
But you probably already know that. B/c FACE OFF is in its thirteenth season or something.
So I'm the last to know about it. Which sucks. On principle. I hate being the last to know anything.
But when I stop sulking about not being a trailblazer, I appreciate that there are twelve (eleven?) seasons that I can binge watch at my leisure for FREE. B/c Hulu subscriber.
There are worst ways to move on from your favorite urban fantasy series ending, that's all I'm saying. I'm in the middle of season 3, and I love it. LOVE.
So far my favorite creations are from the "Burtonesque" challenge: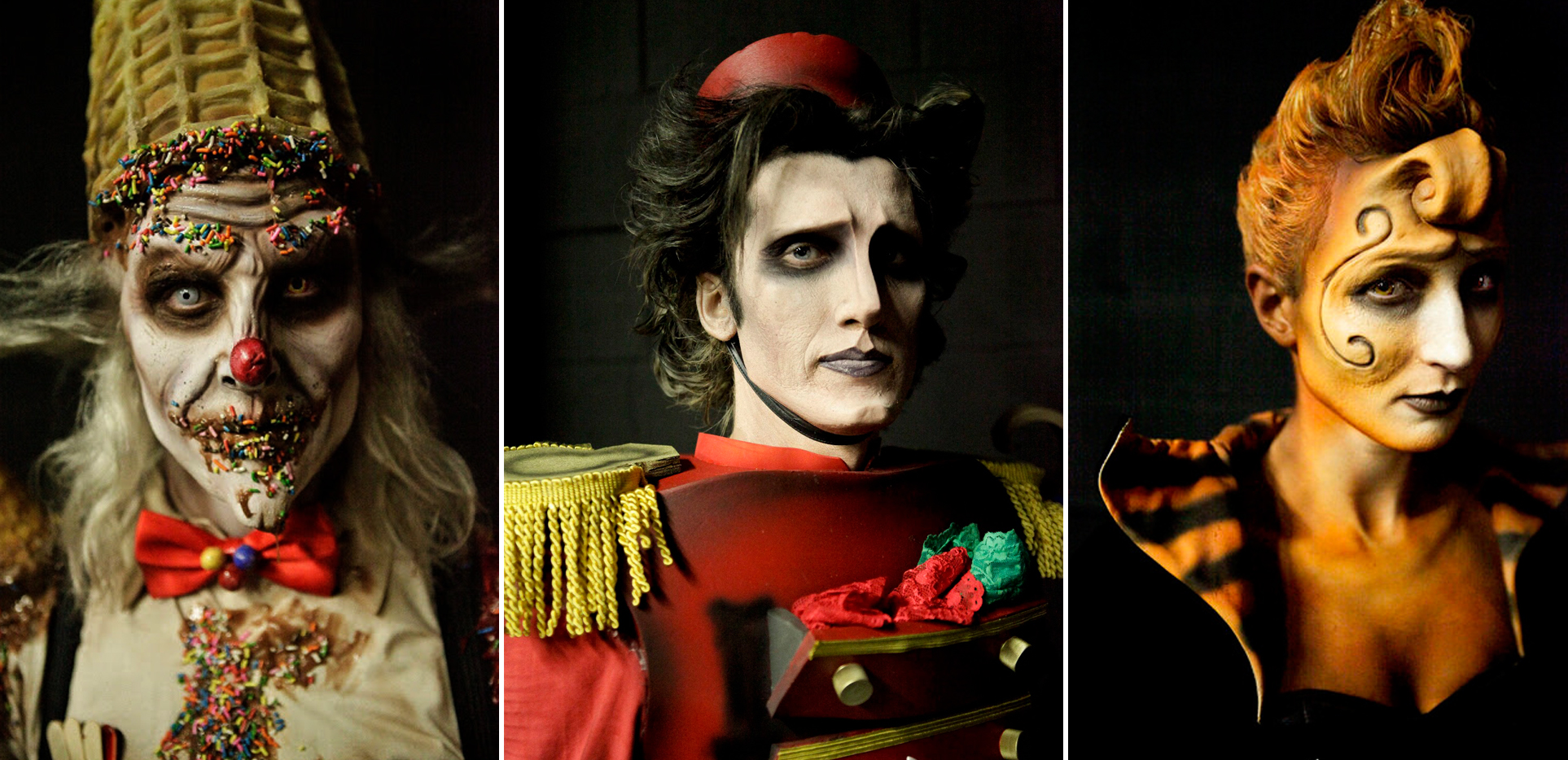 You can't tell how fantastic the one on the far right is just from the picture, but trust me, it is. That chick came with a matching cello that had once been the person she loved. After the transformation, she played it to keep it alive. It perfectly captured the melancholy that is synonymous with Tim Burton. #itburnsusprecious
What about you? Do you love FACE OFF? Do you combat book hangovers by bingeing on reality tv? What's your drug of choice?
Related Posts