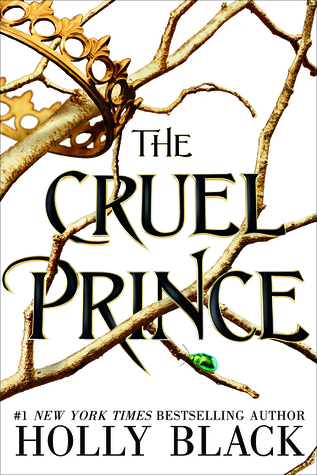 The Cruel Prince

by Holly Black
Series: The Folk of the Air #1
Published by Little, Brown Books for Young Readers
Published on: January 2 2018
Genres: Urban Fantasy, Young Adult
Pages: 385
Format: Hardcover
Source: Purchased

Amazon
|
Book Depo
|
Kobo
|
B&N
|
iBooks
 |
GoodReads
Of course I want to be like them. They're beautiful as blades forged in some divine fire. They will live forever.

And Cardan is even more beautiful than the rest. I hate him more than all the others. I hate him so much that sometimes when I look at him, I can hardly breathe.

Jude was seven years old when her parents were murdered and she and her two sisters were stolen away to live in the treacherous High Court of Faerie. Ten years later, Jude wants nothing more than to belong there, despite her mortality. But many of the fey despise humans. Especially Prince Cardan, the youngest and wickedest son of the High King.

To win a place at the Court, she must defy him–and face the consequences.

In doing so, she becomes embroiled in palace intrigues and deceptions, discovering her own capacity for bloodshed. But as civil war threatens to drown the Courts of Faerie in violence, Jude will need to risk her life in a dangerous alliance to save her sisters, and Faerie itself.
I'ma let you guys in on a little secret: I love fae.
You: That's not really a secret . . .
Me: *glares* Whatever.
Holly Black gives good fae. I've known this since reading TITHE nearly fifteen (FIFTEEN 😱) years ago, and side note, if you also read and loved TITHE, some not-unfamiliar-to-you characters make an appearance in THE CRUEL PRINCE. *throws confetti*
But despite taking place in the same world, this is a very different story (though just as darrrrrk).
Vivi was different from other big sisters, but since seven-year-old Jude and Taryn were identical, with the same shaggy brown hair and heart-shaped faces, they were different, too. Vivi's eyes and the lightly furred points of her ears were, to Jude, not so much more strange than being the mirror version of another person.
A lovely thought, the kind of thought that unites sisters rather than divides them, but ultimately . . . A childish thought.
The truth of their disparate natures is made abundantly clear when the fully human Jude and Taryn are dragged to Faerie along with their halfling sister Vivi, the only heir of Madoc, Red Cap War General-of-the-High King.
The girls' mother was once a faerie bride, you see. She fled Faerie while still carrying Vivi, leaving another human's bones smoldering in the ashes of Madoc's home. But somehow, after ten years, Madoc learned the truth and set out to reclaim his family.
You: What do Jude and Taryn have to do with it?
Me: Well . . . After Madoc slaughtered their parents in a fit of rage, they became his responsibility in some twisted faerie version of honor.
You: O_____O
Me: Exactly.
Surprisingly, Madoc does right by the girls as best he can. They're raised as his daughters, trained and educated alongside the children of the gentry.
But they are not his daughters. They are not gentry. They are mortal. They have no magic and no (infallible) protection against it.
And the fae do so love to play with mortals.
One of the things I love most about Black is her sugar-free portrayal of the fae. She unapologetically captures their capricious nature, how they can turn on a dime from playful to murderous if they feel their pride has been besmirched. How committed they can be to the long game if it provides a moment's entertainment.
"I like for things to happen, for stories to unfold. And if I can't find a good enough story, I make one."
View Spoiler »Never trust a fox. « Hide Spoiler

But Jude has had enough. She's tired of constantly staving off panic, of being powerless. Instead, she chooses anger. She accepts her humanness and all that entails, but she refuses to cower in fear any longer. The fae may beat her, humiliate her, kill her, but she'll deal as much damage as she's capable while they're doing it.
"Do you love me enough to weep over me?"
"You mean if you were hurt?"
"I mean if I hurt you."
My skin prickles. I don't like this. But at least I know what to say. "If you hurt me, I wouldn't cry. I would hurt you back."
YAS. *fist pumps*
THE CRUEL PRINCE is Holly Black at her finest. Her Faerie is as changeable as the wind, its denizens cunning and prideful and, yes, above all else they are cruel. Things are rarely as they seem and never simple. But now a determined human who was raised among them, knows their ways and their weaknesses. Come and see what it looks like when Jude hurts them back. Highly recommended.
Was this review helpful to you? If so, please consider liking it on Goodreads!


Related Posts