Bookfessional: Book Hangovers, boo hiss
Did you know that urbandictionary.com has an entry for book hangover? B/c it totally does. Several, in fact. Not that being defined by Urban Dictionary is the stick by which the legitimacy of random bookish terms is measured, but I still think it's cool.
SO. Book Hangover as defined by Urban Dictionary:
1. The inability to start a new book because you are still living in the old book's world.
2. The inability to function at work/school because you were up all night binge-reading.
I rarely suffer from the latter version, but the former? We're old frenemies.
When I'm in the midst of a full-on book hangover, I am good for absolutely nothing. In conversations with real people, I confuse incidents from the book with incidents that have actually happened.
Me: Hey, remember that time you did the thing and stuff happened, OMG that was sooooooo funneh.
You: That never happened.
Me: Yeah, it did. You were all blah something blah and shut down Cool Guy like a rockstar. It was ah-maze-ing!
You: I have no idea what you're talking about. Stop calling me Kate.
Me: O_____O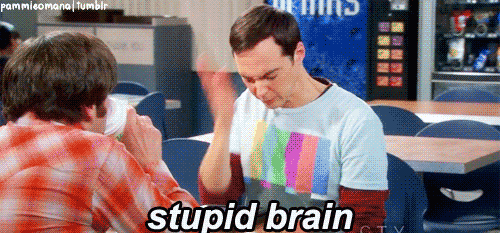 Attempts to be productive are thwarted by daydreams where I relive specific events, speculate about the motivations of characters, stress about unresolved conflicts and/or impending doom, etc.
When the series is unfinished, I might be plagued by a hollowness reminiscent of that brought on by misunderstandings in adolescent relationships.
If the book hangover is bad enough, it can spawn a book funk.
Book hangovers are Nasty. And there's really no way to combat them. You just have to ride them out. #firstworldproblems
What about you? What book/series sparked your worst book hangover?
Related Posts