Good Morning, Rabid Readers! I'm pleased to welcome C.V. Wyk, debut author of the gender-swapping YA Historical (*Half-)Fantasy BLOOD AND SAND, a book that I am very excited about–I mean, really? A female Spartacus? YES, please! If you think that sounds as epic as I do, be sure to enter the giveaway at the end of this post.
Author Interview
1. Road trip! Which fictional characters are along for the ride?

Jo March, Lyra Belacqua, Liadan of Sevenwaters, Hermione Granger, and Luna Lovegood. Hmm…I see a pattern here…

2. If Attia joined a superhero fight squad, which one would it be?

Well, she doesn't have superpowers but probably the Fremen Fedaykin of Dune.

3. Who is Attia's celebrity crush?

Captain American. I mean, he's basically Xanthus with a cool shield and more clothes. Loveable meatball.


Lightning Round
Bread or Chocolate? Chocolate.

Thor or Loki? Thor. Those shoulders, I mean…

Sudoku or Crossword? Crossword. I don't speak numbers.

Sci-Fi or Fantasy? BOTH.

Netflix or Amazon Prime? Netflix.

Spiders or Zombies? Zombies all the way.

Dragons or Hippogriffs? Dragons because fire.

Favorite supernatural creature? Valkyries

Favorite fairytale? Vassillisa, a Russian folktale

Favorite carbonated beverage? Ginger Ale

Hogwarts house? Ravenclaw or Hufflepuff. Ravenpuff? But probably Hufflepuff, for real.


Author Bio
C. V. Wyk graduated from Vanderbilt University with a BA in English Literature and European History. Blood and Sand is her first novel. Born in Los Angeles, California, she now lives in Maryland. Look for her online on Twitter and Tumblr.
Website, Website, Goodreads, Twitter, Instagram, Facebook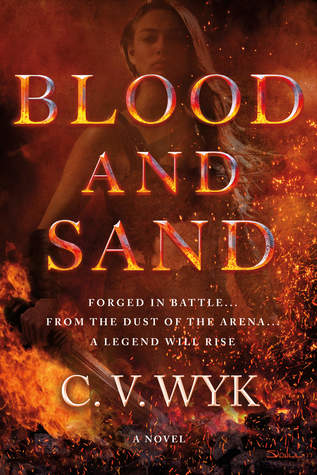 FORGED IN BATTLE…
FROM THE DUST OF THE ARENA…
A LEGEND WILL RISE

The action-packed tale of a 17-year-old warrior princess and a handsome gladiator who dared take on the Roman Republic—and gave rise to the legend of Spartacus…

For teens who love strong female protagonists in their fantasy and historical fiction, Blood and Sand is a stirring, yet poignant tale of two slaves who dared take on an empire by talented debut author C. V. Wyk.

Roma Victrix. The Republic of Rome is on a relentless march to create an empire—an empire built on the backs of the conquered, brought back to Rome as slaves.

Attia was once destined to rule as the queen and swordmaiden of Thrace, the greatest warrior kingdom the world had seen since Sparta. Now she is a slave, given to Xanthus, the Champion of Rome, as a sign of his master's favor. Enslaved as a child, Xanthus is the preeminent gladiator of his generation.

Against all odds, Attia and Xanthus form a tentative bond. A bond that will spark a rebellion. A rebellion that threatens to bring the Roman Republic to its end—and gives rise to the legend of Spartacus…

The story continues in Fire and Ash, coming in 2019 from Tor Teen.
Tour Schedule:
Jan 8 –
Mary Had A Little Book Blog
Jan 9 –
Novel Knight
Jan 10 –
The Book Nut
Jan 11 –
Short & Sweet Reviews
Jan 12 –
Rabid Reads
Jan 15 –
Brittany's Book Rambles
Jan 16 –
Powder and Page
Jan 17 –
Arctic Books
Jan 18 –
My Friends Are Fiction
Jan 19 –
Itching for Books
Jan 22 –
Pretty Deadly Reviews
Jan 23 –
Chasing Faerytales
Jan 24 –
Bumbles and Fairytales
Jan 25 –
Ageless Pages Reviews
Jan 26 –
Gizmo's Reviews
a Rafflecopter giveaway
Thanks for stopping by, and be sure to keep an eye out for my review of BLOOD AND SAND, coming soon!
*Half-fantasy b/c no magics.
Related Posts