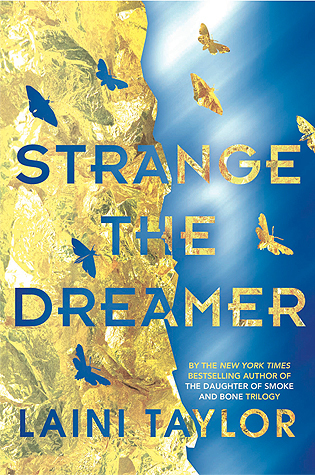 Strange the Dreamer

by Laini Taylor
Series: Strange the Dreamer #1
Published by Little, Brown Books for Young Readers
Published on: March 28 2017
Genres: Fantasy, Young Adult
Pages: 545
Format: Hardcover
Source: Purchased

Amazon
|
Book Depo
|
Kobo
|
B&N
|
iBooks
 |
GoodReads
The dream chooses the dreamer, not the other way around—and Lazlo Strange, war orphan and junior librarian, has always feared that his dream chose poorly. Since he was five years old he's been obsessed with the mythic lost city of Weep, but it would take someone bolder than he to cross half the world in search of it. Then a stunning opportunity presents itself, in the person of a hero called the Godslayer and a band of legendary warriors, and he has to seize his chance or lose his dream forever.

What happened in Weep two hundred years ago to cut it off from the rest of the world? What exactly did the Godslayer slay that went by the name of god? And what is the mysterious problem he now seeks help in solving?

The answers await in Weep, but so do more mysteries—including the blue-skinned goddess who appears in Lazlo's dreams. How did he dream her before he knew she existed? And if all the gods are dead, why does she seem so real?

Welcome to Weep.
I wish I could say that I deliberately left STRANGE THE DREAMER unread for months b/c I was saving it for my annual Independence Day beach trip with my sisters, but the truth is that I was a chicken.
You see . . . Laini Taylor is a literary GODDESS, and I am loathe to be disappointed. Fortunately, my crisis of faith was unwarranted, and this book, ye gods, this book is the best I've read this year.
The people of Lazlo Strange's world have two hearts, one that pumps blood, the other spirit. If the spirit heart is damaged or destroyed, a person continues to live, but it is a half-life, devoid of feeling or emotion. It's as though Taylor asked herself, why does one heart have to be the center of both physical life and the metaphysical soul? Why not make it two?
And so she did.
She also created a race a beings with a variety of special abilities that subjugated the people of the city now known as Weep. Where these beings came from has yet to be revealed, but based on the actions of these six, it's not a nice place.
BUT.
That was then and this is now.
And Lazlo has dreamed of finding the wondrous city, known to him only through the stories of a cantankerous monk, since his childhood.
Does he find it?
READ THE BOOK.
I'd apologize for my vagueness, but Taylor spins starlight and cobwebs into beautiful and terrible spun-sugar fairy tales that are best discovered by the individual reader. If you've yet to discover her brand of magic for yourself, get thee to the nearest bookstore—yes, bookstore, b/c this is an author who deserves a place on your ever-dwindling bookshelves.
Was this review helpful to you? If so, please consider liking it on Goodreads!


Related Posts