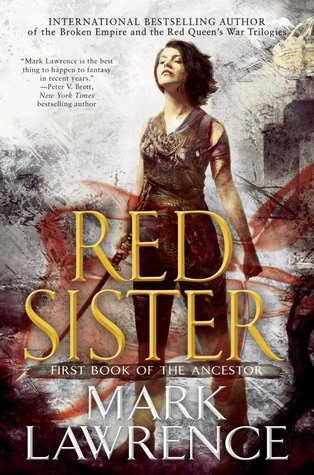 Red Sister

by Mark Lawrence
Series: Book of the Ancestor #1
Published by ACE
Published on: April 4 2017
Genres: Fantasy
Pages: 480
Format: ARC
Source: Author

Amazon
|
Book Depo
|
Kobo
|
B&N
|
iBooks
 |
GoodReads
I was born for killing – the gods made me to ruin.

At the Convent of Sweet Mercy young girls are raised to be killers. In a few the old bloods show, gifting talents rarely seen since the tribes beached their ships on Abeth. Sweet Mercy hones its novices' skills to deadly effect: it takes ten years to educate a Red Sister in the ways of blade and fist.

But even the mistresses of sword and shadow don't truly understand what they have purchased when Nona Grey is brought to their halls as a bloodstained child of eight, falsely accused of murder: guilty of worse.

Stolen from the shadow of the noose, Nona is sought by powerful enemies, and for good reason. Despite the security and isolation of the convent her secret and violent past will find her out. Beneath a dying sun that shines upon a crumbling empire, Nona Grey must come to terms with her demons and learn to become a deadly assassin if she is to survive…
First of all, b/c I've already been asked numerous times, YES, this is an entirely new trilogy, unrelated to Lawrence's previous works. So if you tried to read PRINCE OF THORNS and DNFed it b/c you couldn't tolerate that little shit of an MC (I've been assured that he gets better around 40%, but I haven't personally made that determination for myself), now's your chance to give Lawrence another shot.
Second of all, even after reading through it again when I finished the book, I still found the prologue to be absolutely baffling. Oh, parts of it made more sense, like the description of the landscape, but without any foreknowledge, I was violently frustrated over seemingly conflicting information: how could the coast be glimpsed through a sea of 1024 columns? How could BOTH the northern and southern ice be visible from one place? Then there's everything that comes after, "Here's a moment," which is when things got really confusing.
Fortunately, it's only a few pages in length, so if you find yourself similarly baffled, power through it, b/c those three pages are the real only complaint I have about the whole thing.
Is it dark? Yes, gloriously so.
Is it violent? Enough to satisfy me at my bloodthirsty worst:
There is in every delicate thing, no matter how precious, nor how beautiful, a challenge. Break me.
And despite being mostly about warrior nuns, it's also exciting. It's not a secret that I avoid most fantasy with predominant religious orders, b/c I find men (it's usually men) who don't drink, curse, or chase tail (<——gender neutral) deathly dull. #sorrynotsorry
Instead we've got a hunska small girl, sold into slavery and about to hung for killing a literal giant of a man.
You: How'd she manage that?
Me: READ THE BOOK. *twirls mustache*
Then things get really exciting.
You learn about a world on the verge of collapse, a thin corridor of civilization dependent on a failing moon that somehow keeps the ice at bay. You learn of nuns who, if they have the blood for it, train as poisoners and spies and warriors. Plots within plots within plots reveal the scheming hearts of the various leadership, and at the center of it all is a convenient prophecy about the one who will save them all.
But there are also whispers of older gods, The Missing, whose cities lie abandoned under the ice . . .
Sounds worth checking out, does it not?
Now for my SPOILERY speculation (and my one other complaint that boils down to my being a kill-them-all-kill-them-now kind of girl, so more an issue of preference than a "real" complaint).
WHAT IF: View Spoiler »1. Either we're still here in five billion years when the sun red dwarfs,

2. Or something happens to speed the process?

And WHAT IF:

The Earth wasn't consumed along with Mercury and Venus?

Would science have developed to the point of being able to create and implement a giant mirror (where the moon used to be) to reflect and amplify the sun's diminished light?

Would we genetically alter humans to give them a better chance of survival in the new catastrophic conditions? Would we create giants, hearty enough to withstand the bitter cold? Would we enhance others with the speed defend themselves from the predators better suited to their new environment?

I'm not sure how the alleged "magic" users fit in, but science always seems like magic to those who don't understand it.

And if this world is really some post-apocalyptic event Earth, then I don't get to be annoyed about the 1024 Corinthian columns in a world where Corinth never existed.

It's either that or ALIENS, I think.

As for the aforementioned issue of preference, I'm sorry, but Clera needs to die. I have no patience for letting that shiesty broad live. I get that Nona has her thing about friendship, but friendship isn't one-sided and Clera's #1 priority has always been Clera. And no, I don't feel sorry for her b/c she had a difficult upbringing. LOOK AT NONA.

Something about not the tragedies, but how you react to them making a person . . . « Hide Spoiler
Final verdict: Highly recommended.

Was this review helpful to you? If so, please consider liking it on Goodreads!


Related Posts