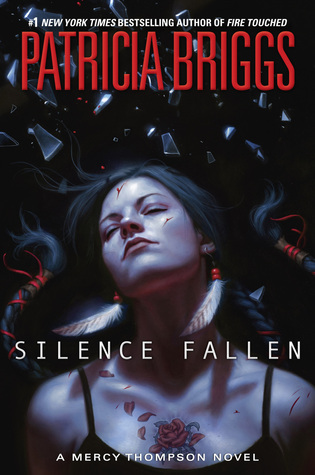 Silence Fallen

by Patricia Briggs
Series: Mercy Thompson #10
Published by ACE
Published on: March 7, 2017
Genres: Urban Fantasy, Werewolves
Pages: 384
Format: eARC
Source: NetGalley

Amazon
|
Book Depo
|
Chapters
|
Kobo
|
B&N
|
iBooks
 |
GoodReads
In the #1 New York Times bestselling Mercy Thompson novels, the coyote shapeshifter has found her voice in the werewolf pack. But when Mercy's bond with the pack and her mate is broken, she'll learn what it truly means to be alone...

Attacked and abducted in her home territory, Mercy finds herself in the clutches of the most powerful vampire in the world, taken as a weapon to use against alpha werewolf Adam and the ruler of the Tri-Cities vampires. In coyote form, Mercy escapes only to find herself without money, without clothing, and alone in the heart of Europe...

Unable to contact Adam and the rest of the pack, Mercy has allies to find and enemies to fight, and she needs to figure out which is which. Ancient powers stir, and Mercy must be her agile best to avoid causing a war between vampires and werewolves, and between werewolves and werewolves. And in the heart of the ancient city of Prague, old ghosts rise...
SILENCE FALLEN takes us back to a time when Mercy was a one-woman show. Her allies are still in place, but all their power and might has been nullified by the Atlantic Ocean. Thompson is forced to do what she does best. Survive. I loved this book because even though I always look forward to reconnecting with the Tri-Cities cast, it was Patricia Briggs' strong heroine that first drew me to this series, and continues to call to me with each new installment.

There were still a lot of chapters told from Hauptman's point of view, and a couple from a few other characters' as well. So, even though this novel was mostly about our favourite VW mechanic, there was a hearty dose of Adam, Honey, Stefan, Elizaveta, and Marsilia in addition to newcomers from the European seethes and the Vltava pack not to mention a guest appearance from Matt Smith—not the Doctor, but you should pay special attention to him all the same!

I liked how interconnected all the different plot threads were. Initially, the players seemed to be working independently of each other however, as the author built towards the finish line that's when Briggs' mad skills at her craft manifested. The pacing felt off in the early chapters, so it's important to judge this title for all its parts because every word has meaning, and if you find yourself as blindsided by the curveball as I was, I suspect that that ending will incite many a re-read.

This volume had one last thing going for it, and that was the way it expounded upon Mercy's Coyote lineage, and her aptitude with the dead. Ghosts have been constant companions of the heroine but, she's mostly ignored them until now. I also loved how forces like Charles and Wulfe attested to the fact that Thompson is the most dangerous person in the Tri-Cities. Fans already know this however, it took Lenka's run-in with a bus, and eluding the Lord of the Night to sway Iacopo.

SILENCE FALLEN was motherhumping rad!
Mercy Thompson Series


My Review


My Review


My Review


My Review


My Review


My Review


My Review


My Review


My Review


Was this review helpful? If so, please like it on GoodReads or vote for it on Amazon!



Related Posts