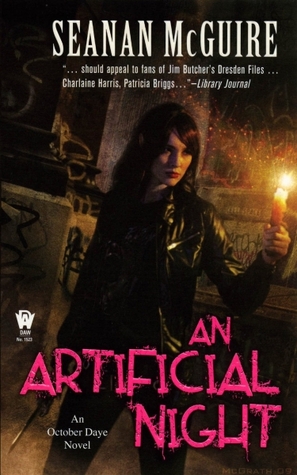 An Artificial Night

by Seanan McGuire
Series: October Daye #3
Published by DAW
Published on: September 7 2010
Genres: Urban Fantasy
Pages: 368
Format: eBook
Source: Purchased

Amazon
|
Book Depo
|
Kobo
|
B&N
|
iBooks
 |
GoodReads
Experience the thrill of the hunt in the third October Daye urban fantasy novel.

October "Toby" Daye is a changeling-half human and half fae-and the only one who has earned knighthood. Now she must take on a nightmarish new challenge. Someone is stealing the children of the fae as well as mortal children, and all signs point to Blind Michael. Toby has no choice but to track the villain down-even when there are only three magical roads by which to reach Blind Michael's realm, home of the Wild Hunt-and no road may be taken more than once. If Toby cannot escape with the children, she will fall prey to the Wild Hunt and Blind Michael's inescapable power.
For whatever reason, the third installment is almost always a game changer in an urban fantasy series. Iron Kissed is almost universally acknowledged as being when Mercy Thompson "gets good," Faefever is when Mac finally starts being more kick-ass heroine than TSTL, and Magic Strikes is my favorite UF installment ever.
"How many miles to Babylon? It's threescore miles and ten. Can I get there by candlelight? Aye, and back again. If your feet are nimble and your steps are light, you can get there and back by the candle's light." She paused, voice changing cadences. "Children's games are stronger than you remember once you've grown up and left them behind. They're always fair, and never kind. Remember."
AN ARTIFICIAL NIGHT follows the well established pattern. The seeds McGuire planted in the first two books blossom into a breathtakingly faetastical world that is as dangerous as it is beautiful:
"You'd be surprised at how deep rose thorns can cut. They're pretty, not safe."
It's been a few months since I reread A Local Habitation, and once again I forgot how darrrrrk this series can be. I was quickly reminded when one of October's friends calls her in a panic, b/c two of her children (who adorably call her "Aunt Birdie") have disappeared, and another can't be woken from her sleep.
On her way to Golden Gate Park to take the sleeping girl to Lily, October runs into Tybalt (king of cats) who informs her that five Cait Sidhe children were also stolen in the night, one of them his nephew . . .
Brace, people. This is one monstrously captivating version of the Great Hunt.
And at the head of the hunt is Blind Michael, a Firstborn, son of Oberon and Titania, half-brother to the Luidaeg (*chants* Lou-sha-k, Lou-sha-k, Lou-sha-k . . .).
BUT.
As much as I love all things Great Hunt-related, it was all the mysteriously mysterious hints about the nature of October's mother's faeness, October's by default, that really hooked me.
Stuff like:
"It's been tried. Once it was even tried by my sisters and I—we belong to Maeve, but that doesn't make us monsters. Remember that, child of Oberon: even we can tell the difference."
The Daoine Sidhe are claimed by Titania, not Oberon.
Chew on that for a minute.
Also, all of October's "changelings don't get forever, so I've always known I'll die one day," proclaimations feel a mite lady-protesting-too-loudly, and given McGuire's obvious love of the Bard, I'll not be surprised if Amandine's "fairy bride" shenanigans is really a cover meant to hide the identity of October's true father.
And knowing that Sylvester has a sister named September, who named her daughter January, my money is on a Torquill . . . Which would explain Raysel's animosity . . .
Also awesome was the extreme faeness of several of the characters, this one in particular:
She was taller than xxxxx, with marble white skin and hair that darkened from pale pink at the roots to red-black at the tips. It fell past her knees, tangling in the rope of briars that belted her grass green gown. She looked like nothing I'd ever seen . . .

The rose woman opened her eyes. They were pale yellow, like pollen.
Sign me up for the October Daye coloring book, that's all I'm saying.
No really, that's all I'm saying. Late Eclipses is calling my name, but I won't let myself read it until I've written my review. Duty done. *winks* Highly recommended.
October Daye:
Was this review helpful to you? If so, please consider voting for it on Amazon or like it on Goodreads!


Related Posts