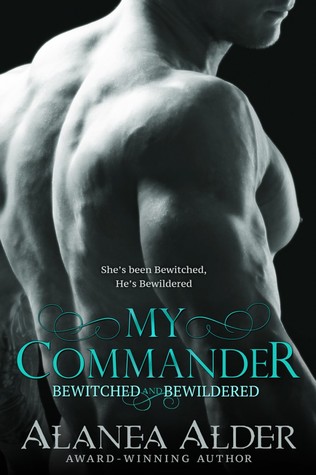 My Commander

by Alanea Alder
Series: Bewitched and Bewildered #1
Published by Indie
Published on: October 3, 2014
Genres: Paranormal Romance
Pages: 282
Format: eBook
Source: Purchased

Amazon
|
Book Depo
|
Kobo
|
B&N
|
iBooks
 |
GoodReads
When the topic of grandchildren comes up during a weekly sewing circle the matriarchs of the founding families seek out the witch Elder to scry to see if their sons have mates. They are shocked to discover that many of their son's mates are out in the world and are human!

Fearing that their future daughter in laws will end up dead before being claimed and providing them with grandchildren to spoil, they convince their own mates that something must be done. After gathering all of the warriors together in a fake award ceremony the witch Elder casts a spell to pull the warrior's mates to them, whether they want it or not.

Aiden McKenzie is adamant that he doesn't need a mate and that she would only get in the way. He doesn't have time to coddle a female. He likes his world run with military precision. Little does he realize, Fate is sending him his mate first! He meets his destined mate Meryn Evans and things go downhill from there. She is the embodiment of chaos. In the first twenty-four hours she kicks, screams and knocks her bear shifting mate unconscious.

Eventually they discover that life before finding each other may have been good, but life afterwards is perfect, even if it involves super soaker battles and accidentally discharging hand grenades.

Unfortunately the joy of their mating is overshadowed when Aiden and Meryn find themselves embroiled in a missing persons case assigned to Aiden by the Lycaonian Council. By assisting Aiden, Meryn finds herself the focus of a demented killer.

Can Aiden and the elite warriors from the Alpha Unit keep Meryn safe? Or did Fate bring her to Lycaonia to die?
Books that are funny, romantic, and completely far fetched don't always do it for me. This book is one that had me laughing out loud, ignoring plot holes, just going with the flow regardless how crazy things got, and I ended up having a great time reading it. And judging by how high it's rated on book sites, I guess a lot of people felt the same way I did. Simply put, it's a fun read.

A spell was cast to find the forever mates for the warriors of the secret town, Lycaonia. Meryn, new to the closest town to Lycaonia, decides it would be a good idea to climb a 10 foot tall fence to go exploring. Of course she is found. And Aiden, the Unit Commander of the warrriors has of course, found his mate. Meryn is not having any of it and so begins the tale of a woman and her neanderthal of a mate, Aiden. The fact that Aiden is a bear shifter, and the rest of the warriors are all sorts of supernatural creatures, just adds to the enjoyment of this story.

Meryn was not your typical paranormal romance heroine, to say the least. She wears nothing but jeans, t shirts, and hoodies. Potty mouth? For days! And she doesn't have a filter, what she thinks spouts out of her mouth, even when it will get her into trouble. She doesn't like people and likes being a loner. Aiden is hundreds of years old and has the temperament of a bear most of the time. He really knows very little about the outside world as human life doesn't interest him. When he meets Meryn and gets assaulted over and over by her, he really makes a mess of things-hence the reason Meryn calls him a neanderthal. When she makes Star Wars or Dr. Who references, he is completely confused. She may have been bewitched into finding him, but he's definitely bewildered.

Other characters that are introduced included a wolf shifter, Colton, a vampire, Gavriel, and bears, Adelaide and Byron, Aiden's parents, among many others. Also included in the story are witches and Fae. This author's world building had information about all the different creatures, as well as about the new world that Meryn is now a part of. And what a world it is. The people dress right out of the Regency period, but at the same time do have antiquated computers, cars, and other technology-just enough to get by in the real world.

I really enjoyed seeing Meryn take on the high society of Lycaonia, and her elder counsel visit became the stuff of legends. Not only does Meryn have to learn to navigate this new world, but the new world has to come to terms with Meryn. She's not exactly anything that they have ever encountered before!

So I could go on an on. But I won't. I will say that when Meryn sends Aiden to the store for tampons, it was one of the funniest scenes I have read in years. The book is worth it for that scene alone! There's also a mystery involved that I won't be going into either, but should be mentioned. I ended up loving this book even with it's problems, and I would highly recommend it to adult paranormal romance readers. Me? I am going to dive into the rest of the series-next up Gavriel, the vampire, finds his mate.

Just a random thought, but I think the guy on the cover needs a bra-or is it just me?


Related Posts