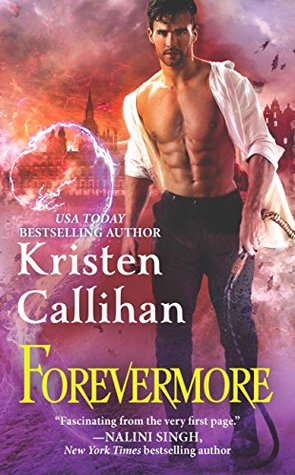 Forevermore

by Kristen Callihan
Series: Darkest London #7
Published by Forever
Published on: June 28, 2016
Genres: Paranormal Romance
Pages: 336
Format: eARC
Source: NetGalley

Amazon
|
Book Depo
|
Kobo
|
B&N
|
iBooks
 |
GoodReads
Isolated and alone, Sin Evernight is one of the most powerful supernatural creatures in heaven and on earth. As an angel of vengeance, he hunts down the darkest evil, but when his long-lost friend, Layla Starling, needs him, he vows to become her protector. Even though she will be horrified by the man he has become.

Now a famous singer and the toast of London, Layla believes that Sin is only here to guard her from rabid fans and ardent suitors. However, the truth is far more sinister. Desperate to avoid losing Layla a second time, Sin will face a test of all his powers to defeat an unstoppable foe - and win an eternity with the woman he loves.
In any given series readers can realistically expect there to be a couple of knockout installments, any more than that, and you KNOW that you've found a primo author. So, needless to say, Kristen Callihan's impeccable record with her DARKEST LONDON books is beyond impressive. FOREVERMORE was the first and ONLY title that came in below her usual standards, but it was still a satisfying conclusion to a phenomenal ride.

Nearly all of the protagonists from the previous novels made an appearance in this last hurrah which is an important component in a final volume in my opinion. Archer and Miranda's side thread was particularly poignant as was the long awaited reunion that occurred between the three Ellis sisters and their estranged brother, St. John Evernight. The author really hit all of the key notes that I was hoping for from that perspective.

This was more of a two-in-one love story which was a deviation from all of the other installments, and perhaps the author's goal was to double-up on the romance for an especially rousing series ending. However, based on the blurb, and on earlier foreshadowing, I had my heart set on Sin and Layla's happily-ever-after when in reality this book was primarily about Augustus and Lena with the other two as a somewhat secondary tangent.

St. John was allotted a decent amount of page time, but given his sordid past, and the magnitude of his transformation, it wasn't nearly enough. Same thing went for Starling, she's smacked by a very rude awakening, and yet eased into her new truth with minimal resistance. I did enjoy the addition of the angel / demon paranormal layer, and the way in which Callihan brought so many of the events from previous novels to a head.

FOREVERMORE was a good conclusion to an otherwise great series.
Darkest London Series


My Review


My Review


My Review


My Review


My Review


My Review
Was this review helpful? If so, please vote for it on Amazon or like it on GoodReads!
Related Posts