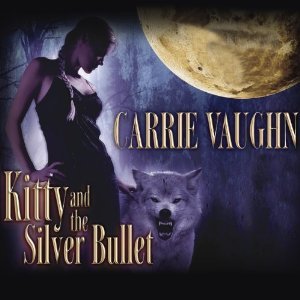 Kitty and the Silver Bullet

by Carrie Vaughn
Narrator: Marguerite Gavin
Series: Kitty Norville #4
Published by Tantor Media
Published on: November 12, 2009
Genres: Urban Fantasy, Werewolves
Length: 9 hrs & 4 mins
Format: Audiobook
Source: Borrowed

Amazon
|
Book Depo
|
Kobo
|
B&N
|
iBooks
 |
GoodReads
Kitty's radio show is as popular as ever, and she has a boyfriend who actually seems to understand her. Can she finally settle down to a normal life? Not if this is just the calm before the storm.

When her mother falls ill, Kitty rushes back to Denver - and right back to the abusive pack of werewolves she escaped a year ago. To make matters worse, a war is brewing between the city's two oldest vampires, threatening the whole supernatural community.

Though she wants to stay neutral, Kitty is again drawn into a world of politics and violence. To protect her family, her lover, and herself, she'll have to choose sides. And maybe become what she hates - a killer.


Kitty has to head back to her hometown of Denver to tend to a family emergency, and in doing so ends up having to face the very thing that got her and I off on the wrong foot since the first installment of this series. I was happy that Carrie Vaughn made her heroine confront her demons at this point in the story arc because I don't think that I could have dealt with Norville in her submissive state for much longer. The vampire and police detective threads also picked up where they left off, and the romance took an unexpected turn which left me feeling pretty satisfied with this volume.

When push came to shove, Kitty made the right decision when the time came to face her fears for her mother's sake, and I was relieved to see her get back on the horse so to speak. Her return wasn't without its hitches, and she did have a couple of weak moments, but all in all Norville finally found her inner strength. I enjoyed her interactions with her human pack, and the various supes that she's picked up along the way. My hope is that the winds of change continue gusting well past KITTY AND THE SILVER BULLET because now that I've gotten a taste of alpha Kitty, I can't go back to the omega version.

Vampire politics usually make for interesting plot lines, and this one was no different. The author revealed just enough of their machinations to make me feel like I learned something important about their inner workings while keeping the rest in the dark, and me speculating in-between titles. The romance has taken a completely different direction than what I'd originally anticipated, and although I'm slightly bummed by that, especially after one particularly poignant scene, it shows promise. Albeit, I suspect that something (or someone) might happen that'll rock the current pairing's boat.

The Midnight Hour is back in business after a brief hiatus which is fantastic news because Marguerite Gavin has a real knack for the protagonist's on air voice. There was also a fair number of characters in this audiobook what with the vampire/werewolf war, and the narrator made sure to give each of them their own unique tone and pitch; some I recognized immediately from the first novel while as others were brand new. Gavin infused the touching scenes between Norville and her mom with just the right level of emotion as well as the lovey dovey one towards the end.

KITTY AND THE SILVER BULLET was an installment that I could really sink my teeth in to!




Was this review helpful? If so, please like it on GoodReads or vote for it on Amazon!



Related Posts