The kindle cleanup continues!
Despite all of these falling somewhere under the UF/PNR umbrella, they're a diverse bunch, if only in my expectations.
DNF at 16%.
BLACK CITY SAINT was one of my most anticipated new UFs. With a description involving Fae, dragons, and prohibition era Chicago, how could it not be?
However . . . A lot of you already know that I majored in English, more specifically literature, and even more specifically, British literature. Most of my required reading was wonderful.
Most.
But after Chaucer's TROILUS AND CRESSIDA, my least favorite work was Spenser's THE FAERIE QUEENE. It was terribly boring, and oh so very loooooong.
Guess which book BLACK CITY SAINT has as its foundation: THE FAERIE QUEENE.
Holy knights and dragons and cat-eating wolfy changelings and BLAH.
The story itself had tremendous potential, even after I figured out (no hard task, the hints were obvious) that George was indeed St. George, but 16% felt like 40 – 50%, and I'm finding that I loathe plots focused on a cursed individual forced to relive the death of his reincarnated One True Love over and over again.
Stahp.
Was this review helpful to you? If so, please consider liking it on Goodreads!
DNF at 0%.
No, you read that correctly. I never started this one.
JANE YELLOWROCK has been one of my Top Five UF series since I read Skinwalker. I adore Jane. I adore Beast. Many of the secondary characters are also fantastic, as are the plots of the individual books.
BUT.
For three books now, maybe four, a visit from the European Vampire council has been imminent.
It's a huge friggin' deal.
And it's yet to actually happen.
When I was told by another reviewer who had finished their ARC that, once again, the European vamps were a no show . . . my head exploded.
I love Jane, I love Hunter, and I would never presume to tell an author how to write her books. But I absolutely refuse to read another installment until she makes good on her dangling carrot. #sorrynotsorry
Was this review helpful to you? If so, please consider liking it on Goodreads!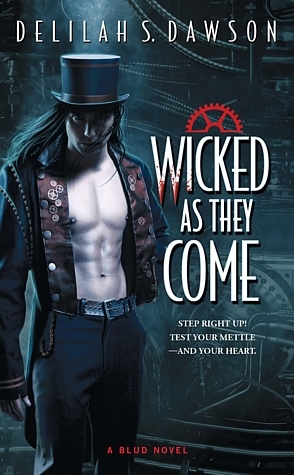 DNF at 42%.
This is the one PNR in the group, though I didn't know that when I started, and it's not an OTT sex, sex, sex (none at all by the time I DNF-ed, actually) focused PNR, so it felt more UF.
As UF as a book can be when most of it takes place in a weird steampunk parallel dimension type place, anyway . . .
The world was decent—not overly gadgety. The plot, also decent. BUT. The heroine . . . was less than inspiring.
I know women make bad relationship decisions all the time. I know when they finally get out of it, they're broken and scared, and it takes awhile to recover and open themselves up to trusting another man.
BUT.
Just b/c I know it happens doesn't mean I want to read about it.
It annoys the hell out of me to see a damaged woman continually push away a good (and sexy as hell) man, b/c burned before, blah blah, not ready, when WE ALL KNOW she's going to give in eventually.
It's tedious.
Even more so when she starts heavily flirting with another man.
"My last boyfriend was a major jerk, and I don't want a new one, so I'm going to lead TWO men around by their noses, b/c I'm so confused, and it's kind of fun, too."
*flares nostrils*
Get out.
Was this review helpful to you? If so, please consider liking it on Goodreads!
And that's it for this round of decluttering of my kindle. I'll eventually get to the Yellowrock, but for those of you, like me, who have been waiting and waiting (and WAITING), for the Euro Vamps to make it to America, know that SHADOW RITES it not that book.
Related Posts