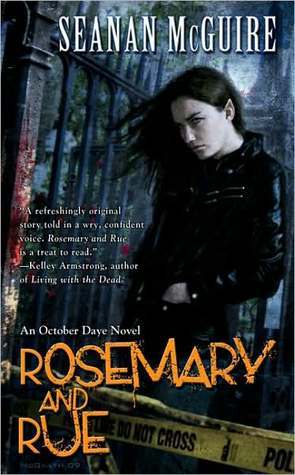 Rosemary and Rue

by Seanan McGuire
Series: October Daye #1
Published by DAW
Published on: August 29 2009
Genres: Urban Fantasy
Pages: 368
Format: eBook
Source: Purchased

Amazon
|
Book Depo
|
Kobo
|
B&N
|
iBooks
 |
GoodReads
October "Toby" Daye, a changeling who is half human and half fae, has been an outsider from birth. After getting burned by both sides of her heritage, Toby has denied the Faerie world, retreating to a "normal" life. Unfortunately for her, the Faerie world has other ideas...

The murder of Countess Evening Winterrose pulls Toby back into the fae world. Unable to resist Evening-s dying curse, which binds her to investigate, Toby must resume her former position as knight errant and renew old alliances. As she steps back into fae society, dealing with a cast of characters not entirely good or evil, she realizes that more than her own life will be forfeited if she cannot find Evening's killer.
There are two things I want to tell you in advance:
1. October Daye is one of my Top 5 Favorite UF Series.
2. The first time I tried to read ROSEMARY AND RUE, I DNF-ed it.
YEP. I did.
I didn't pick it up again for a couple of years, and when I did, it was b/c DESPERATE for new UF.
So I was more patient . . . Which was good, b/c I made it past the '90s flashback of a prologue, and the depths-of-despair aftermath that had initially put me off.
You: Yeah, but how long did that take? How far do I have to get into the book before I get to the "good part"?
Me: I'm SO glad you asked! I didn't even have to finish the first chapter before things got interesting. *waves at Tybalt*
Once he showed up, it was easy to push through the next couple of chapters, then Toby was back in thick of things. *orbit gum smile*
October Daye is a changeling, or part fae/part human. She lives mostly with the humans, or has for awhile now. She has a human fiancé, and together they have a daughter.
It's that "mostly" that destroys her world.
When a powerful fae's wife and daughter are kidnapped, he recruits Toby for her PI skills to find them.
She's worked similar jobs for fae before, but as a changeling, her abilities are flimsy compared to those of a full-blooded fae, so when she finds what she's looking for, she taps out.
She calls in reinforcements to handle any takedowns or wrangling of pureblooded fae villains.
But this time . . . she doesn't.
Sylvester Torquill is her friend, as is his wife, and their daughter is near the same age as her own, so when she tracks down the culprit, instead of leaving to report in, she stays . . .
And gets transfigured into a koi, and spends the next FOURTEEN YEARS of her life swimming in one of the ponds in Golden Gate Park's Tea Gardens.
Eventually, she regains her humanity, but she's lost everything she cared about—her fiancé is with another woman, her daughter is nearly grown, and both believe she abandoned them—the world is unrecognizable (her last cell phone was the size of a 12oz soda can), and, well . . .
She's MAD. And defeated. And plagued with guilt and remorse. But the anger is there, even if she's buried it under six feet of avoidance, and an angry Toby makes for an infinitely more interesting Toby than a woe-is-me Toby.
Like when she's driving home from a meeting with the duke only to find a fae assassin in her backseat:
"What the—?" demanded a voice from the back…
"It's called reckless driving, asshole!"
"…You're going to kill us both!"
"That's the idea!" It was actually fun, in a fatalistic sort of way. I smiled grimly as we wove in and out of traffic, watching the near misses become less miss and more near. There's nothing like a good high-speed car chase to get the evening started off right.
Sounds fun to me . . . *winks*
Which brings me to how fantastic McGuire's writing is across the board—not only is this series about fae, but her style embodies the very faeness that makes them my FAEvorite:
I've never been good at shadow-weaving or fire-work, but give me a thick veil of water vapor and I can manage the basics. This time my aim was clarity: water's excellent for scrying, and fog is just water that's forgotten its beginnings.
Then there are the various types of fae:
A black horse stood by the curb in the deepest part of the shadow, the smell of debris masking its characteristic blood-and-seaweed scent. Its eyes were red, and the look it gave me was inviting, promising wild adventures and fantastic delights if I'd just get onto its back.
*backs away from kelpie*
And let's not forget the wonderfully clever world-building:
…the electronic age has broadened the horizons of magical fraud to an astonishing degree. Faerie gold can be used for more than just party tricks; it works pretty well on the stock market, for example, where money's an illusion anyway.
Do you see why I'm hooked?
ROSEMARY AND RUE is the first installment of Seanan McGuire's OCTOBER DAYE series, and it is the full package. Our heroine has taken some hard knocks, but she doesn't let it keep her down. She keeps pushing, and fighting, and pursuing, b/c what she's been tasked to do matters, and anything else is quitter talk. The world is fae, the characters are fae, the tone is fae . . . I love it. Highly recommended.
October Day series:
Was this review helpful to you? If so, please consider voting for it on Amazon or like it on Goodreads!
Related Posts