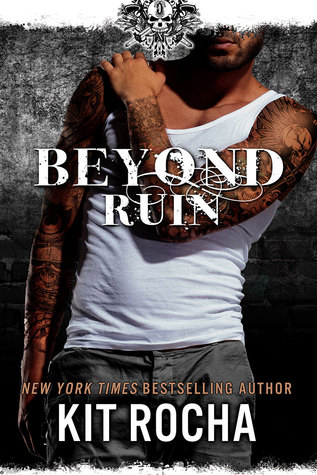 Beyond Ruin

by Kit Rocha
Series: Beyond #7
Published by Self-Published
Published on: February 23, 2016
Genres: Dystopian, Erotica
Pages: 323
Format: eARC
Source: Author

Amazon
|
Chapters
|
Kobo
|
B&N
|
iBooks
 |
GoodReads
One, choosing instead to join up with the O'Kanes. For years, he's lived by one rule: love fast, love hard, and always be willing to walk away. He's managed to guard his heart, keep it whole and untouched—until now.

They couldn't be more different—Dylan, the brilliant, burned-out doctor from Eden who drowns his pain with drugs and self-destruction. Scarlet, the sensuous, sexy rocker from Three, a woman unafraid to embrace the world. And Jade, the whore turned spy from Sector Two, who battled addiction and came out stronger than anyone he's ever met.

Separately, they make Mad long to open his heart, to tumble head-first into a sea of possibilities and wild love. Together, they make him burn, inside and out, with lust and unbearable, unimaginable pleasure.

Then one fateful moment shakes their world to its foundations—and leaves the sectors on the verge of all-out war with Eden. It's the biggest fight the O'Kanes have ever faced, and Mad and his lovers are at the dead center of it. They could end up with everything they never knew they wanted—or lose it all. Including their lives.
Wow! Where to start with this book? First, let me state by how much I love this series. I started reading it way back when the first book, Beyond Shame, was released and i loved it. There hasn't been a bad book in the series. While this is an dystopian erotica series, it is not all about the sex. Don't get me wrong, there is a lot of sex in these books, but there is also a great story, even better characters and a complex world building. This series has a bit of Urban Fantasy feel to it. I would recommend that you start with book one and work your way through the series. Every book in the series is well worth the read.
To give you some background on the series if you're not familiar with it. It is dystopian, so the world is quite a bit different from what we're used to. There was a huge solar flare that took out pretty much all technology. There are still some tech gadgets, but they don't all work. Electricity isn't something that is easy to come by. There is the city of Eden which lives in excess. Sectors that surround it that exist pretty much to support Eden. Each sector has it's purpose.
This series follows mostly the O'Kanes a gang that runs Sector Four. They are known for the liquor production, which they smuggle into Eden. They are also known for their love of partying. They love to fight and to f*ck and have no shame about it. As long as everyone is consensual, everything is on the table. They are also loyal. "O'Kane for life" They are all about protecting their own.
Okay, now on to this book in particular. The couple starts out with two couples, Maddox, the prince who ran from Sector One, Dylan, the drug using doctor and Jade, from Sector Two, Scarlett from Sector Three. The group visits Sector One and we get to meet more of Maddox's family. They are pretty much the leaders of a religious cult, which is why Maddox left. While his cousin isn't as corrupt as his grandfather was, he sees that the problem could return. He is also treated like a prince when he is there and can't stand it.
We also see Jade take a stand and really show her own as she wants to do more for the girls in Sector Two. I don't want to go too much into details because I don't want to spoil anything, but let's just say that Jade really become quite a force to be reckoned with. Also, we learn that Jade has way more money than anyone ever thought she did. Who know that seduction and espionage was so profitable?
We also learned a lot about the Doc. His past is way darker than anyone could've ever imagined. He also has to come to terms with his parents and what they did to get him the education that he got to become the doctor that he is today.
We didn't learn as much about Scarlett as I would've like, but there is a lot going on this book. With four people in this "couple", plus all the overall story arc, I guess there was only so much page time. I did feel sorry for Scarlett. I do see why she felt a bit like a third wheel. Everyone else grew up in luxury while she just struggled to get by.
Dallas O'Kane, the leader of our little gang, his queen, Lex, really have a lot to deal with in this book. I loved seeing Dallas's reaction when he offers everyone in the gang a chance at an out. As if he thought that any of them would ever leave him. Dallas is a leader that inspires loyalty and that is why he is the most dangerous leader to Eden. I think all the people in Eden are aware of this.
If you haven't tried this series yet, I highly recommend you give it a try. Even if you're not a fan of erotica. There is so much to this story besides sex. The characters are just so well written that I just love them to pieces. I also love this world that they've built. I haven't read a lot of dystopian books, but this is my favorite by far.
Don't let the number of books shown below scare you off this series. Many of those are novellas. This is only book seven with several great novellas you can try too, if you want, but aren't required for the series.
At the time of this posting, book one, Beyond Shame, is free at most ebook retailers. I highly recommend that you pick it up if you would like to give this series a try.
Related Posts