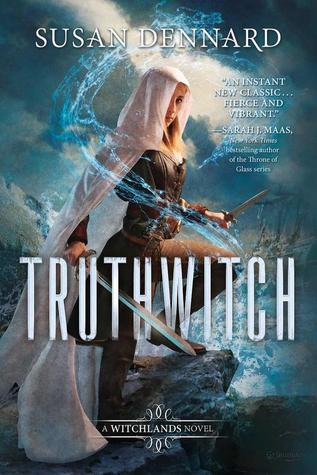 Truthwitch

by Susan Dennard
Series: The Witchlands #1
Published by TorTeen
Published on: January 5 2016
Genres: Fantasy, Young Adult
Pages: 416
Format: eARC
Source: Publisher

Amazon
|
Book Depo
|
Kobo
|
B&N
 |
GoodReads
On a continent ruled by three empires, some are born with a "witchery", a magical skill that sets them apart from others.

In the Witchlands, there are almost as many types of magic as there are ways to get in trouble—as two desperate young women know all too well.

Safiya is a Truthwitch, able to discern truth from lie. It's a powerful magic that many would kill to have on their side, especially amongst the nobility to which Safi was born. So Safi must keep her gift hidden, lest she be used as a pawn in the struggle between empires.

Iseult, a Threadwitch, can see the invisible ties that bind and entangle the lives around her—but she cannot see the bonds that touch her own heart. Her unlikely friendship with Safi has taken her from life as an outcast into one of reckless adventure, where she is a cool, wary balance to Safi's hotheaded impulsiveness.

Safi and Iseult just want to be free to live their own lives, but war is coming to the Witchlands. With the help of the cunning Prince Merik (a Windwitch and ship's captain) and the hindrance of a Bloodwitch bent on revenge, the friends must fight emperors, princes, and mercenaries alike, who will stop at nothing to get their hands on a Truthwitch.
I don't know about the rest of you, but when one of my favorite authors recommends a book or another author, I AM THERE.
How much more so when the recommended author is the real life bff of said author? How much more so when the book in question is meant to be (at least in part) an expression of that friendship?
In her acknowledgements, Dennard says:
Friendships can be just as epic as romances . . .
That's lovely, isn't it? It's also true for those of us lucky enough to have found our own Threadsister. *waves at Chrissy*
Safiya and Iseult are Threadsisters, friends bound together as tightly as family. They are night and day, Iseult the frequent victim of hideous prejudice due to her Romany-like background, Safiya an orphaned heiress.
They fill each other's gaps, operating in perfect synchronization with barely a thought: Initiate. Complete. They are hilarious and determined and passionate and I bloody love them.
The girls live in a world on a precipice. The twenty-year treaty that has kept a tenuous peace among the various countries is near its expiration date, and while some monarchs are happy to make sure their people are fed, others have conquest on the brain.
In fact, many suspect—have suspected from the beginning—that the treaty is nothing more than cover for the emperor to build his armies under the guise of law keeping while undermining any potential threats.
Change is coming, and our girls are at the heart of it.
Enter Merik, the prince of a once world power, now decimated by past wars. The coast of his island home is ash, and he is desperate to secure trade so his people won't starve.
The last thing he needs is a complication in the form of Safiya, but that's exactly what he gets, and with Safi comes Iseult.
It's fun.
The chemistry between Safiya and Merik is WHUH. So WHUH that if this was an adult novel, there'd be a lot more than dancing going on. *waggles eyebrows*
Aeduan and Iseult are a different matter altogether. It seemed obvious from the beginning that the two were destined for coupleness, but their outcome was still nebulous by book's end. One thing I can say for sure is that I NEED more of Aeduan's backstory. Dude is too restrained, to emotionless to have come by it naturally. I see darkness and a lot of it.
Dark is good.
But ultimately this is a story of friendship, of the lengths two girls will go to to protect the other, and how that friendship might shake their world's foundation. The dashing, not-pirate prince (with a TEMPER), who knows scandalous dances and dances them well—I admit it, I swooned—the peril, the secrets, the long-orchestrated political schemes . . . Those are just bonus. *winks*
TRUTHWITCH by Susan Dennard is my first Top Read of 2016. Highly recommended.
Was this review helpful to you? If so, please consider voting for it on Amazon or like it on Goodreads!


Related Posts