This December, Paige Tyler releases the third in her action-packed SWAT series, IN THE COMPANY OF WOLVES. To celebrate the release of IN THE COMPANY OF WOLVES, Paige Tyler stopped by to tell us about one of her favorite fun loving heroes in pop culture and to share an excerpt showcasing her own hero's fun loving side!

Everyone loves reading about alpha males, right? But of course, you can't have a single dimensional character that's just hardcore alpha all the time. It comes off as flat or just plain irritating. Most of the time you want to let your alpha have a lighter side, just to keep things interesting. One of my favorite fun loving heroes from popular culture is Peter Quill!

Chris Pratt gives heart, soul, humor, and muscle to everyone's favorite Guardian of the Galaxy character. He handles the physical action sequences with ease while still looking like he might be getting through this stuff on pure luck. He's willing to laugh at himself (remember that scene of him dancing at the end of the movie?) while risking his life. Like all alphas, he has that one particular something about him that draws other people to him and gets them to risk their lives for him. He also can't help but attract the women at the same time, though he never comes off as a player (or an alpha-hole as I like to call them).


Excerpt
One of the Albanians shouted something from the front of the store in his own language, following it up with an order to the omegas to stop wasting time and get the damn safe open. Becker ground his teeth. He should have simply kidnapped Jayna and her entire pack. Then he could have just walked into the loft and shot every one of these idiots—twice.
"Watch them," he told Jayna, motioning to the security guard and two women. Turning, he left the break room and jogged down the hallway toward the back of the building.
"Get them back on the safe!" the Albanian driver shouted at him from the front room.
Oh yeah, sure. Stop two morons from raping a woman and get them back on task. What the hell was he—a daycare worker for omega werewolves?
Shit. If this was how criminals behaved, it was no wonder he and his SWAT teammates took so many of them down. They were too stupid to live. Then again, maybe this was how Gage felt some days. The SWAT pack could occasionally be a little stupid too. Becker's current predicament was a shining example of that.
The omega standing guard in the hallway outside the manager's office glared at him. "We got this. Go back and babysit the old folks."
What a complete ass, Becker thought as he walked up and punched the guy in the face. The werewolf flew backward and bounced off the wall, bleeding like crazy from a broken nose as he fell to the floor in a dazed heap. He was still moving around though, reminding Becker that it was as hard to knock out an omega as it was to knock out an alpha. He'd have to remember that.
Becker strode into the office to find the store manager on the floor beside her desk, the other omega—the one who liked to play with his platinum medallion—leaning over her menacingly. He'd torn her blouse and was telling her all the horrible things he planned to do to her if she didn't open the safe. The idiot was so intent on threatening her that he didn't realize Becker was there until he yanked the guy to his feet and spun him around, then smashed the back of his head into the nearest hard object he could find—the safe panel. Becker pounded his head into the safe a few times before letting him fall to the floor. The asshole was definitely out cold.
Becker turned and looked at the shop manager. She cringed away from him, terror in her eyes as she tried to hold the tatters of her blouse together. He really wished he could pull up his ski mask. Seeing him like this definitely wasn't helping.
Do you have an alarm button in this room?" he asked in his softest, least intimidating voice.
The woman stared at him for a moment like he was insane, then motioned under the desk with a shaking hand.
"Would you mind pushing it for me?" he asked.
Now she looked really confused. But she slowly reached under the desk and poked around until a loud alarm started ringing.
"Thanks." Becker bent down to take the platinum medallion out of the omega's vest and slip it into his pocket. "By the way, that diamond merchant you bought from in New York sold you out to a really bad guy. You probably don't want to buy from him anymore." Turning, he jogged out of the room and down the hallway to the front of the store. "Time to leave. Moron hit the alarm."
Jayna was heading his way in a flash, the two Albanians right behind her.
"What about the safe?" the driver asked.
Becker shook his head. "It's a no-go. Our guy smashed the keypad."
The Albanians muttered something in their native language and shook their heads, as if they'd seen this coming. They stepped over the omega who was still rolling around in a daze on the floor in the hallway and raced out the back door. In the distance, sirens echoed in the air. About damn time. Becker motioned Jayna out.
"What about him?" she asked, jerking her head at the werewolf still trying to get to his knees.
Becker nudged the omega with his boot, pushing him back down. The guy looked like he really didn't want to bother getting up this time.
"What about him?" Becker said, holding the door open for her.
[author] [author_image timthumb='on']http://rabidreads.ca/wp-content/uploads/2014/12/PaigeTyler.jpg[/author_image] [author_info]
Author Bio




Paige Tyler is the USA Today bestselling author of sexy, romantic fiction. Paige writes books about hunky alpha males and the kickbutt heroines who fall in love with them. She and her very own military hero (aka her husband) live on the Florida coast with their adorable dog.





Website | Facebook | Twitter | Pinterest | GoodReads
[/author_info] [/author]
My Review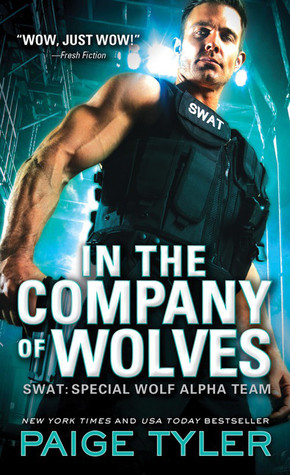 In the Company of Wolves by Paige Tyler
Series: SWAT #3
Published by Sourcebooks Casablanca
Published on: December 1, 2015
Genres: Paranormal Romance, Werewolves
Pages: 288
Format: eARC
Source: NetGalley

He opened his mouth to order her to drop the MP5 she had aimed at him, but nothing would come out. It was like she'd robbed him of the ability to speak. Shooting her wasn't an option, though. And the idea of arresting her didn't make him feel any better.

There's a new gang of criminals in town who are organized and ruthless in the extreme. When Eric Becker, along with the rest of the Dallas SWAT team, ends up in the middle of a shootout, he immediately senses werewolves-a lot of them. Turns out, the new bad guys are a pack of wolf shifters.

In a spray of gunfire, Becker comes face-to-face with the most gorgeous woman he's ever seen. Becker does the logical thing. He hides her and leaves the scene with the rest of his team.

Jayna Winston has no idea why that SWAT guy helped her, but she's glad he did. Ever since she and her pack mates got mixed up with those Eastern European mobsters, everything had pretty much fallen apart.

So what's a street-savvy thief like Jayna going to do with a hot alpha-male wolf who's a police officer?


IN THE COMPANY OF WOLVES opened with two hard hitting scenes; the first featured the traumatic event that induced Jayna's change, and the second was a full blown SWAT maneuver, but with werewolves! Paige Tyler dropped a few more bread crumbs about her supes, another couple got a sexy HEA, and this installment's villains gave the boys in blue a run for their money.

The author has been taunting readers with snippets of shifter lore since book 1, and finally after three volumes, I'm pleased to report that sufficient dets have been divulged for me to go all-in. Now, don't go getting too excited because Tyler really doesn't give us much except betas and omegas, but from a werewolf fangirl's perspective that's enough.

I enjoyed the plot of this installment; all of the stories have been adrenaline fiends, however this one was especially cranked up on account of the antagonists being wolves too. SWAT had yet to encounter a situation in which they were evenly matched with the baddies, so that was cool, and there was also an undercover operation that gave the action an extra edge.

Cooper got suckered into helping yet another team mate hook-up with their The One. No, not really. He's simply a stand-up guy, and I can't WAIT to read his story! Becker was just as alpha as Gage & Xander, but in his own unique way. Jayna was a brilliant heroine, and I absolutely loved her pack mates: Megan, Moe, Joseph & Chris.

IN THE COMPANY OF WOLVES is proof that good things come in threes.

Was this review helpful? If so, please like it on GoodReads or vote for it on Amazon!


Giveaway
Related Posts