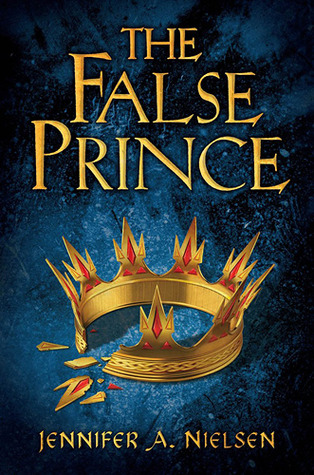 The False Prince

by Jennifer A. Nielsen
Series: The Ascendance Trilogy #1
Published by Scholastic
Published on: April 1 2012
Genres: Fantasy, Middle Grade
Pages: 355
Format: eBook
Source: Purchased

Amazon
|
Book Depo
|
Kobo
|
B&N
 |
GoodReads
The False Prince is the thrilling first book in a brand-new trilogy filled with danger and deceit and hidden identities that will have readers rushing breathlessly to the end.

In a discontent kingdom, civil war is brewing. To unify the divided people, Conner, a nobleman of the court, devises a cunning plan to find an impersonator of the king's long-lost son and install him as a puppet prince. Four orphans are recruited to compete for the role, including a defiant boy named Sage. Sage knows that Conner's motives are more than questionable, yet his life balances on a sword's point -- he must be chosen to play the prince or he will certainly be killed. But Sage's rivals have their own agendas as well.

As Sage moves from a rundown orphanage to Conner's sumptuous palace, layer upon layer of treachery and deceit unfold, until finally, a truth is revealed that, in the end, may very well prove more dangerous than all of the lies taken together.

An extraordinary adventure filled with danger and action, lies and deadly truths that will have readers clinging to the edge of their seats.
THE FALSE PRINCE by Jennifer Nielsen is in my opinion exactly what juvenile fiction/middle grade fantasy is supposed to be.
Nimble-fingered orphans who proactively take measures to fill their bellies? Check.
Evil masterminds plotting to overthrow a kingdom? Also, check.
A Big Secret that isn't easily identifiable b/c super sneaky use of ambiguity? CHECK.
And all of that is in addition to the highly entertaining snark that does not stop. <——SNARK, I love it.
Meet Sage.
Sage is all things cocky and self-assured that make up clever early adolescent boys. He can steal whatever he needs without getting caught, and if he is caught, no one can hold on to him long enough to prove it.
He's not happy with his lot in life, but he understands his place in the world and is content to live day-to-day without giving much thought to what he'll do when he's forced to leave the home for boys where he currently resides when he turns fifteen.
Meet Conner.
Conner is a nobleman on a mission to Save the Kingdom. A mission that involves rounding up orphan boys of a certain age and appearance and training them to behave convincingly like noblemen themselves.
Sage wants nothing to do with whatever Conner's plan is, but when it becomes obvious that he must submit or be hunted and silenced, he decides to stick around and see what all of this is really about.
If you want to know what it's all about, you'll have to read it for yourself (b/c not telling).
And I hope you do. Not only is it a quick, easy read, but this is the kind of book that parents can read out loud to their children, children can read to themselves, or adults can read for their own pleasure.
Is the world-building or plot as complicated or as twisty as an adult fantasy novel? No. It's not. J-U-V-E-N-I-L-E fiction. But the story and characters are more than interesting enough to keep you entertained, especially if you don't go into reading it with unrealistic expectations.
At least I think it is. And this is the second time I've read it, so not a fluke. Highly recommended.
The Ascendance Trilogy:
Was this review helpful to you? If so, please consider voting for it on Amazon or like it on Goodreads!
Related Posts