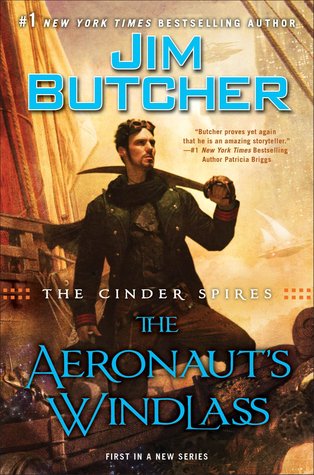 The Aeronaut's Windlass

by Jim Butcher
Series: The Cinder Spires #1
Published by Roc
Published on: September 29, 2015
Genres: Steampunk
Pages: 640
Format: eARC
Source: NetGalley

Amazon
|
Book Depo
|
Chapters
|
Kobo
|
B&N
 |
GoodReads
Jim Butcher, the #1 New York Times bestselling author of The Dresden Files and the Codex Alera novels, conjures up a new series set in a fantastic world of noble families, steam-powered technology, and magic-wielding warriors…

Since time immemorial, the Spires have sheltered humanity, towering for miles over the mist-shrouded surface of the world. Within their halls, aristocratic houses have ruled for generations, developing scientific marvels, fostering trade alliances, and building fleets of airships to keep the peace.

Captain Grimm commands the merchant ship, Predator. Fiercely loyal to Spire Albion, he has taken their side in the cold war with Spire Aurora, disrupting the enemy's shipping lines by attacking their cargo vessels. But when the Predator is severely damaged in combat, leaving captain and crew grounded, Grimm is offered a proposition from the Spirearch of Albion—to join a team of agents on a vital mission in exchange for fully restoring Predator to its fighting glory.

And even as Grimm undertakes this dangerous task, he will learn that the conflict between the Spires is merely a premonition of things to come. Humanity's ancient enemy, silent for more than ten thousand years, has begun to stir once more. And death will follow in its wake…


I finally caved, and started listening to Jim Butcher's THE DRESDEN FILES in audio this year, so while I'm still busy playing catch-up on that series, I was excited to be able to get in on the ground floor of THE CINDER SPIRES. The humour was not along the same lines as what I've come to equate with this author, but the world-building and characters were, and two out of three ain't bad! And, in all fairness, Rowl probably made this novel 3/3 for cat people, I just can't in good conscience admit to that for fear of retaliation from my fur babies.

Book 1 has to be THE trickiest installment to write in my opinion because they have the huge task of making an awesome first impression while also developing the protagonists / secondaries / world enough that readers want more without reaching the critical information overload point of no return. Butcher cheated a bit by buying himself extra fleshing out time with his 640 pages, but overall he used the added length to his advantage with epic airship shoot outs, Steampunk-ish gadgets / beasties, and kickass story telling.

I enjoyed the alternating POVs; the separations were distinct, the locations were identified at the start of each chapter, and once I got to know the characters, it was easy to pick out which one was MC'ing just by their dialogues, and narrative styles. I bring this up because this may very well end up being one of the bigger critique points of this series; this particular style can be difficult to follow if you spread out your reading sessions, so essentially what I'm getting at is that this is not a "lunch break" kind of novel!

I'm assuming that Grimm is going to be the main honcho of THE CINDER SPIRES, although I'm not ruling Gwendolyn, Benedict, Bridget, Rowl, Ferus, or Folly out yet either because several of them had a comparable presence. I can also grudgingly acknowledge that the prince of the Silent Paws was right on point; the author combined a cat's indifference, God complex and snobbery into a cute package with attitude, and by the end I was THIS close to buying him his favourite dumplings.

Longer than your average book; however THE AERONAUT'S WINDLASS was time well spent.

Was this review helpful? If so, please like it on GoodReads or vote for it on Amazon!



Related Posts