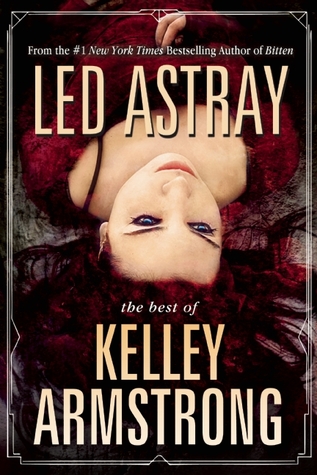 Led Astray: The Best of Kelley Armstrong

by Kelley Armstrong
Published by Tachyon Publications
Published on: September 15th, 2015
Genres: Urban Fantasy
Pages: 384
Format: eARC
Source: NetGalley

Amazon
|
Book Depo
|
B&N
 |
GoodReads
Welcome to the many worlds of #1 New York Times bestselling author Kelley Armstrong (Otherworld, Cainsville). As her SyFy channel series, Bitten, enters its second season, Armstrong continues to breathe new life into city-dwelling vampires, werewolves, and zombies. Now travel even further with her, to a post-apocalyptic fortress, a superstitious village, a supernatural brothel, and even feudal Japan.

In Led Astray, you'll discover the stories of new characters from within and outside Armstrong's popular novels. Here you will find two original tales from Cainsville, plus journeys to and beyond the worlds of Darkest Powers, Age of Legends, Otherworld, and more.

Bold and humorous, passionate and heart-stopping, here is Kelley Armstrong at her versatile best.
RAKSHASHI – 4/5
Given the amount of Speculative Fiction that I read, encountering a new-to-me supe is a rarity, so it was a pleasure hanging with Armstrong's Rakshashi. The lore was nicely fleshed out considering this short's length, and Amrita was a very likable character.

KAT – 5/5
I listened to the DARKEST POWERS trilogy a while back, so KAT was a welcome trip down memory lane while also contributing something extra to the original series by highlighting a lesser known protagonist, and adding another layer to the Edison Group experiment.

A HAUNTED HOUSE OF HER OWN – 3/5
Probably my least favourite story in this anthology. It start out as a decent ghost tale, but the ending fell a little flat for me, and maybe I'm missing something; however slotting it with this author's 'best' is a bit of a leap in my opinion.

LEARNING CURVE – 4/5
I saw a lot of Cassandra Ducharme in Zoe Takano, and the former just so happens to be my top vampire when it comes to Kelley Armstrong secondaries, so the similarities were pluses, and the bloodsucker hunting 101 lesson was cute.

THE SCREAMS OF DRAGONS – 5/5
A great series prequel—very dark and unsettling. I enjoyed picking out some of the characters from the full length books, but would recommend reading this short after at least the first installment, and quite possibly the second as well.

THE KITSUNE'S NINE TAILS – 5/5
This short was a lot of fun. The Emperor is betrayed by his most loyal friend, tells his jailer that his prisoner will try nine things on the road to the Forest of the Dead. Everything unfolds exactly as predicted down to the last… with a twist of course!

LAST STAND – 4.5/5
Told from the POV of the Infected, a breed of paranormals previously seen in BRANDED. I always love getting the baddies' perspective, and this author's Dystopian stories are excellent. Be prepared to be disgusted, and enthralled.

BAMBOOZLED – 4/5
This is Armstrong's self proclaimed "werewolf Western". The heist plot line definitely delivered, and Lily raised some interesting questions about Elena and Kate's gender scarcity within the WOMEN OF THE OTHERWORLD universe.

BRANDED – 3/5
Speaking of BRANDED, I'm not really sure why they put this one after LAST STAND as it makes more sense to read them in reverse order. But anyway, an eye-opener into what the Otherworld would have been like had the supes made their existence known to humans.

THE LIST – 4/5
Zoe and Brittany's vampire hunting 101 lessons continue. Fun times were had by all.

YOUNG BLOODS – 4/5
I can't really say much about this one without given too much away. I enjoyed it, and the twist made it worthwhile.

THE DOOR – 4/5
This one was… different. In a good way. I saw the ending coming, but I still liked getting there because regardless of the length of the story, Kelley Armstrong knows how to spin a tale.

DEAD FLOWERS BY A ROADSIDE – 3/5
This was just plain sad. So far this author is 0 for 2 with her ghosts in this anthology. Then again, I tend to be fussy whenever this particular supe is involved, thus there's a possibility that it's strictly a me-thing.

SUFFER THE CHILDREN – 4.5/5
I've read some pretty disturbing stuff from Armstrong in the past and SUFFER THE CHILDREN is for sure up there. Addie's a great character, and for a short it packs quite the punch.

THE COLLECTOR – 4.5/5
The premise was entertaining. I didn't really understand where the story was going at first; however I was 100% intrigued by the mystery of the puzzle boxes, and it came together nicely.

GABRIEL'S GARGOYLES – 5/5
I've made it my personal mission to learn more about this character because he is rather baffling in the CAINSVILLE series, and the author keeps teasing fans with these little shorts in-between installments. Keep 'em coming!

HARBINGER – 4/5
Another freaky one, but this was also a ghost story, and I actually didn't mind it. I felt sorry for the heroine; although I can't say that I would have been able to put the pieces together before it was too late either.

V PLATES – 5/5
And, the #1 spot in this collection goes to: V PLATES! This was the only title that featured known WOTO secondaries, and it was hilarious, in a super awkward, only Nick Sorrentino could get himself into this type of situation kind of way. Reese and Noah were awesome too.

LIFE SENTENCE – 4/5
I was caught off guard by the assistant, and couldn't figure out her deal for the life of me. Of course, it all came together is a fist pump worthy moment.

PLAN B – 3/5
I imagine that this story had a bit of a NADIA STAFFORD vibe to it, but having not tackled those books yet I can't say for sure. That point aside, this was more of a Mystery / Thriller, so not a genre that's in my wheelhouse.

THE HUNT – 3.5/5
The Wild Hunt is one of my favourite myths, and the beginning reminded me of STOLEN; unfortunately it was lacking in the intrigue department.

DEAD TO ME – 3/5
Armstrong really poured on the creepy in this anthology. This tale was kinda predictable, and didn't do anything for me when compared to some of the other titles in this compilation.

DEVIL MAY CARE – 5/5
This one added a tidbit or two to my on-going Gabriel research, and confirmed the reason why Patrick is in CAINSVILLE. The author revisits the story of Mallt-y-Nos (Matilda of the Night) in an interesting way.

Was this review helpful? If so, please vote for it on Amazon, or like it on GoodReads!



Related Posts