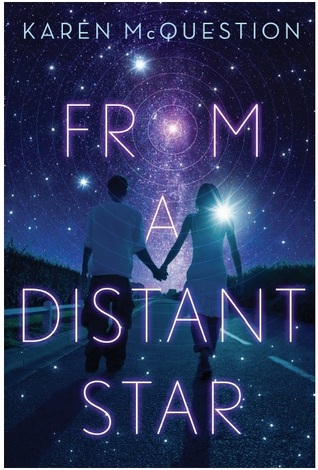 From a Different Star

by Karen McQuestion
Published by Skyscape
Published on: May 19, 2015
Genres: Science Fiction, Young Adult
Pages: 279
Format: eBook
Source: Purchased

Amazon
|
Book Depo
|
B&N
 |
GoodReads
Seventeen-year-old Emma was the only one who hadn't given up on her boyfriend, Lucas. Everyone else—his family, his friends, his doctors—was convinced that any moment could be his last. So when Lucas miraculously returns from the brink of death, Emma thinks her prayers have been answered.

As the surprised town rejoices, Emma begins to question whether Lucas is the same boy she's always known. When she finds an unidentifiable object on his family's farm—and government agents come to claim it—she begins to suspect that nothing is what it seems. Emma's out-of-this-world discovery may be the key to setting things right, but only if she and Lucas can evade the agents who are after what they have. With all her hopes and dreams on the line, Emma sets out to save the boy she loves. And with a little help from a distant star, she might just have a chance at making those dreams come true.


Science fiction of the outer space sort is not my usual favorite read. But I do enjoy the occasional and sometimes, more than occasional YA book. After recently reading another science fiction series (Edgewood)by this author, I decided to try this one, although I think it's a stand alone. But maybe not.

Emma is seventeen and it's the summer before her senior year in high school. Her boyfriend, Lucas, has cancer and is dying. She spends night and day beside his bed because for her, Lucas is her life. While everyone waits for him to die, she is the only one that waits for him to wake up. To this end, she goes to a local witch and gets a get well potion, because at this point she would try anything. Right after applying it to his lips, a boom sounds out in the yard. And Lucas wakes up a short time after. But is it really Lucas? He doesn't act like him, talk like him, or even smile like him. Lucas's little brother Eric, pretty much figures out the mystery, and can only talk to Emma, due to his mother being the mother from hell. His theory? Lucas has been taken over by an alien.

Emma was a fairly good character, although at times a bit too unbelieving of things that are obvious to the reader. There were times, I liked Lucas's brother a bit better than her. Lucas reminded me of the character from the old movie, Starman. If you haven't seen that one, you should check it out as it's wonderful, and a favorite of mine. In fact, I kept thinking of that movie throughout the read. I am not saying it's the same, only that it's reminiscent of that movie in a young adult way. Lucas's mother was just one of the villains of this read. When government agents get involved, this book becomes fairly saturated with bad guys.

This book was a YA read. I usually enjoy YA books, but at times this one seems like it was for an even younger audience than what I am used to in this type of read. And I am not saying I didn't enjoy the read. I did like it(didn't love it), but a few times I noticed just how young it seemed. With that in mind, I think the target audience should start at age 13 or 14 plus. There's plenty of action, high speed chases, and yes, even some life or death moments. Romance? There's a bit of that as well, but nothing sexual. Unbelievable story at times, of course, but that goes with the science fiction territory, although if I had done some of the things Emma did, I would have been grounded for life!

If there is a sequel, I would want to read it-probably. It might have read a bit too young at times for me, but that's not the author's fault that I am not in the target audience. It still was an interesting premise with some good characters, and more importantly, it kept my interest.
Related Posts