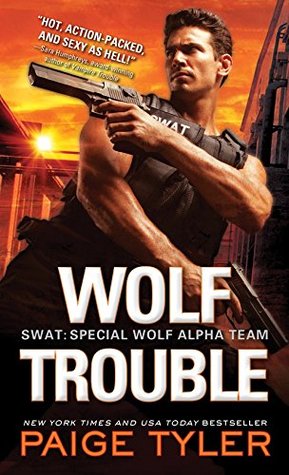 Wolf Trouble

by Paige Tyler
Series: SWAT #2
Published by Sourcebooks Casablanca
Published on: August 4, 2015
Genres: Paranormal Romance, Werewolves
Pages: 352
Format: eARC
Source: NetGalley

Amazon
|
Book Depo
|
B&N
 |
GoodReads
He's in trouble with a capital T...

There's never been a female on the Dallas SWAT team and Senior Corporal Xander Riggs prefers it that way. The elite pack of alpha male wolfshifters is no place for a woman. But Khaki Blake is no ordinary woman.

When Khaki walks through the door attractive as hell and smelling like heaven, Xander doesn't know what the heck to do. Worse, she's put under his command and Xander's protective instincts go on high alert. When things start heating up both on and off the clock, it's almost impossible to keep their heads in the game and their hands off each other...
Men in uniform is already a winning combination for the majority of romance readers, but then Paige Tyler went ahead, and sweetened the deal by casting sixteen alpha werewolves as this series' heroes. WOLF TROUBLE was an improvement on the first book thanks to its less foreseeable plot twists, stronger amorous components, and because the shifter aspects were explored in greater detail. I thoroughly enjoyed my second SWAT experience, and will, without fail, be back for thirds!

My two main criticisms of HUNGRY LIKE THE WOLF were with regards to its lack of insight into the author's wolves, and the overall cheesiness of the love story. Both of those issues were addressed in this installment, and as a result, I now have no problem committing to this series for the long haul. Tyler didn't disclose all of her furry secrets, but she did provide an answer to my query about female werewolves, and explored it at length, so on that front I was completely satisfied.

This novel's plot was more along the lines of what I've come to expect from the Romantic Suspense genre as a whole with its multiple threads—none of which were overly predictable—and a generous helping of action to help offset the steamier bits. The author excelled at weaving in the various law agencies' procedures by tackling things like inter-department collaboration, and bringing all of their specialized training to the fore. This book lived and breathed SWAT.

Khaki and Xander's relationship was a huge step in the right direction compared to the previous couples'; there were no eye rolling moments, and its progression felt more natural due to the female protagonist already being a cop… among other things. Yes, there were still a couple of things that were lost in translation, but it was normal men are from Mars, and women are from Venus stuff. The boss / subordinate dynamics also made the stakes more interesting to say the least.

WOLF TROUBLE was a sexy game of tug-a-war between two alphas, and a must read.
SWAT Series


My Review
Was this review helpful? If so, please like it on GoodReads or vote for it on Amazon!
Related Posts