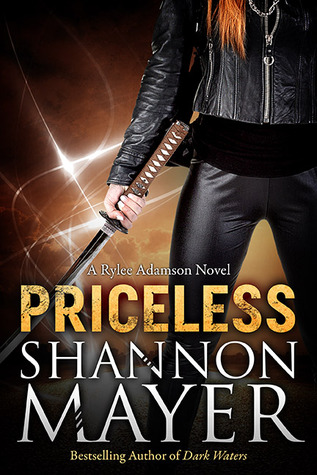 Priceless

by Shannon Mayer
Series: Rylee Adamson #1
Published by HiJinks Ink Publishing
Published on: November 19, 2013
Genres: Urban Fantasy
Pages: 234
Format: eBook
Source: Purchased

Amazon
|
Book Depo
|
Kobo
|
B&N
 |
GoodReads
"My name is Rylee and I am a Tracker."

When children go missing, and the Humans have no leads, I'm the one they call. I am their last hope in bringing home the lost ones. I salvage what they cannot.

I'm on the FBI's wanted list.

I have a werewolf for a pet, a Witch of a best friend, and have no need for anyone else in my life.

But when a salvage starts to spin out of control, help comes from a most unexpected direction.

One that is dangerously dark, brooding, and doesn't know a thing about the supernatural.

One whose kisses set me on fire.
✓Chick with a sword on the cover. ✓A werewolf sidekick. ✓A $0.99 price tag. ✓By a Canadian author—SOLD. One of my favourite Urban Fantasy series was discovered the same way, so I decided to go for it. PRICELESS did not disappoint with its colourful secondary characters, unique slant on the typical P.I. spiel, and a heroine with boatloads of untapped gifts. I enjoyed my first trip down Shannon Mayer's rabbit hole mine shaft, and I will for sure be one-clicking IMMUNE in the near future (YAY! It's on sale too).

This novel had several paranormal elements that I've seen before such as the Tracker talent, and an Arcane division within the FBI angle, along with a few new-to-me spins including creative shifter limitations, and Rylee's Immune ability. The author straight away sets to work weaving together an attractive tale of supes, magical rules, and plot threads. This was definitely a lively book, but the heavy influx of information, and extensive cast debuts were a good fit for the pacing, and added to this story's curve appeal.

Rylee was my kind of heroine, in that she already has a knack for blades, hockey player fight moves, and has been developing her powers for several years. I love a burgeoning protagonist, but sometimes it's a relief to walk into a series with a lead that's already got their shit together. No doubt, Adamson still has much to learn, however she has a sturdy foundation to build upon, so it will be interesting to see how her personality, and skill level evolves from here. I'm hoping that Mayer will rev up the humour as the installments get further along too.

Every strong female protagonist needs an able-bodied man to back her up, and although O'Shea didn't immediately fit those shoes, his character growth began shortly after his first entrance, and didn't let-up until the cliff hanger ending. He has charm; I'll give him that, with his excited grins over finding himself knee deep in otherworldly chaos, and his foresight to practice swordsmanship. Alex was a hit with his Golden Retriever-esque qualities, and flair for lightening up even the most deadly situation. Adversely, Milly has some atoning to do.

PRICELESS was (hopefully) the start of a beautiful RYLEE ADAMSON relationship.

Rylee Adamson Series
Was this review helpful to you? If so, please vote for it on Amazon or like it on GoodReads!
Related Posts