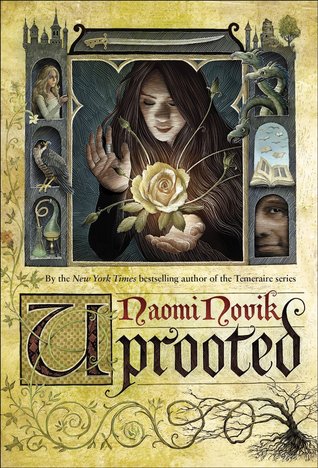 Uprooted

by Naomi Novik
Published by Del Rey
Published on: May 19 2015
Genres: Fantasy
Pages: 448
Format: eARC
Source: Edelweiss

Amazon
|
Book Depo
|
Kobo
|
B&N
 |
GoodReads
Naomi Novik, author of the bestselling and critically acclaimed Temeraire novels, introduces a bold new world rooted in folk stories and legends, as elemental as a Grimm fairy tale.

"Our Dragon doesn't eat the girls he takes, no matter what stories they tell outside our valley. We hear them sometimes, from travelers passing through. They talk as though we were doing human sacrifice, and he were a real dragon. Of course that's not true: he may be a wizard and immortal, but he's still a man, and our fathers would band together and kill him if he wanted to eat one of us every ten years. He protects us against the Wood, and we're grateful, but not that grateful."

Agnieszka loves her valley home, her quiet village, the forests and the bright shining river. But the corrupted Wood stands on the border, full of malevolent power, and its shadow lies over her life.

Her people rely on the cold, driven wizard known only as the Dragon to keep its powers at bay. But he demands a terrible price for his help: one young woman handed over to serve him for ten years, a fate almost as terrible as falling to the Wood.

The next choosing is fast approaching, and Agnieszka is afraid. She knows—everyone knows—that the Dragon will take Kasia: beautiful, graceful, brave Kasia, all the things Agnieszka isn't, and her dearest friend in the world. And there is no way to save her.

But Agnieszka fears the wrong things. For when the Dragon comes, it is not Kasia he will choose.
Imagine a powerful sorcerer living in a tower in the middle of a forest. He is over 150 years old, but he still appears to be a young man. Every 10 years, he picks a girl from one of the local villages to take back to his tower. The villagers say nothing, do nothing, b/c the sorcerer protects them from the Wood.
The villagers don't know what happens to the girls during their time in the tower, only that they come back changed. Grander, finer, more polished. Educated and dressed in fine clothes.
Different.
The girls are well paid for whatever it is they do in the tower. Alone with the wizard. In the middle of the Wood. When they've served their sentence, they return with a sack of silver to use as a dowry, but they don't marry. At least not anyone from their former home. They all leave, using the money to finance a fresh start somewhere else.
This sorcerer, called the Dragon, is alone except for the village girl, and even with her, he maintains his distance. She will age. She will die. He will do neither. Rather than forming attachments to impermanent creatures, he buries himself in order and precision and the resulting beauty of a task well done.
His nature is taciturn, impatient, and formal, so the villagers, despite their dependence on him for protection, fear him, despise him:
I had hated him, but I wouldn't have reproached him, any more than I would have reproached a bolt of lightning for striking my house. He wasn't a person . . .
Agnieszka is the antithesis of this sorcerer, this Dragon.
Left to his own devices, he would never have chosen her as his new companion, but Agnieszka has magic, and the King's Law states that any found with the talent must be trained, so choose her he does.
What follows is a compelling combination of stagnation and rebirth, misunderstandings and revelations, the fantastical and the horrific, and all of it is utterly captivating.
Tired literary devices felt new again:
She kissed me again and held me once more, and let me go. It did hurt more. It did.
I found myself reading and rereading the various passages. More than an image clearly formed in my mind, I felt what Agnieszka felt. I could have been her:
I had forgotten hours and days by then. My arms ached, my back ached, my legs ached. My head ached worst of all, some part of me tethered back to the valley, stretched out of recognizable shape and trying to make sense of myself when I was so far from anything I knew. Even the mountains, my constants, had disappeared. Of course I'd known there were parts of the country with no mountains, but I'd imagined I would still see them somewhere in the distance, like the moon. But every time I looked behind me, they were smaller and smaller, until finally they disappeared with one final gasp of rolling hills.
Novik perfectly captures human nature, plucking you from the physical world, and dropping you next to Agnieszka, making you an observer from within, so much more than a girl in a chair reading a book in Tennessee:
"I'm glad," I said, with an effort, refusing to let my mouth close up with jealousy. It wasn't that I wanted a husband and a baby; I didn't, or rather, I only wanted them the way I wanted to live to a hundred someday, far off, never thinking about the particulars. But they meant life: she was living, and I wasn't.
And beyond the simple beauty of her words, she creates real, believably flawed people characters.
Marek is a prince, not the crown prince, and he has no qualms about making his displeasure on that topic known, and when I met him . . . I didn't know what to think. He behaved abominably, but in a way that he himself wasn't absolutely abominable. Just self-interested. But redeemable. Until he isn't. Then suddenly you have hope for him again.
It was a cycle that I completed several times, and in the end . . . I'm still undecided.
But he was real. And he was one among many.
Kasia is Agnieszka's best and only friend. She is also the girl that everyone expected the Dragon to choose. So imagine my dismay when shortly after she escapes that fate, she is abducted by one of the Wood's foul creatures.
Now imagine Agnieszka's dismay.
If you want to know whether or not Kasia is saved, you'll have to read the book for yourself (which you should do anyway, b/c AWESOME), but I will tell you that Agnieszka finds something in the Wood, and that something reminds me of one of my favorite Christian Schloe illustrations:
Fantastic(al), right? The whole book is like that.
UPROOTED by Naomi Novik is part fantasy, part fairy story, and all wonder. I haven't been as enamored by a tale since I was child, and though this is not a children's story, I still found myself smitten like a girl with ribbons in her hair, twirling in her favorite dress in the sunshine. This is a story that has carved it's place on my heart, and I enthusiastically endorse it as my top read of 2015.
Was this review helpful to you? If so, please consider liking it on Goodreads!


Related Posts