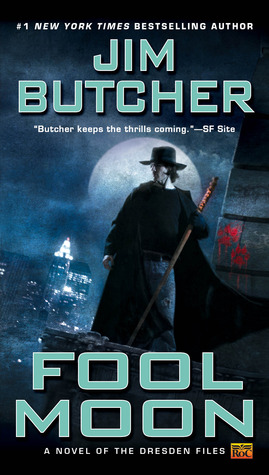 Fool Moon

by Jim Butcher
Series: The Dresden Files #2
Published by Roc
Published on: January 1 2001
Genres: Urban Fantasy
Pages: 369
Format: eBook
Source: Purchased

Amazon
|
Book Depo
|
Kobo
|
B&N
 |
GoodReads
Business has been slow. Okay, business has been dead. And not even of the undead variety. You would think Chicago would have a little more action for the only professional wizard in the phone book. But lately, Harry Dresden hasn't been able to dredge up any kind of work magical or mundane.

But just when it looks like he can't afford his next meal, a murder comes along that requires his particular brand of supernatural expertise.

A brutally mutilated corpse. Strange-looking paw prints. A full moon. Take three guesses and the first two don't count...
I don't know if it was the lowered expectations from being told by every-friggin'-body that DRESDEN doesn't start "getting good" until book 3 or 4, or if it was how much cooler the book was than the TV episode based on this same installment, or something else entirely . . .
The why doesn't really matter, what matters is the outcome, and the outcome is that I thought this book was fan-friggin'-tastic.
FOOL MOON was a vast improvement from STORM FRONT. Harry was more winsomely Harry, and while still occasionally awkward, after the first 25% or so, it petered off considerably. In the end, I was completely won over by his adorkableness.
I was not won over by Murphy. I hesitate to comment on how hard I am not shipping her and Harry right now, b/c I already did that while I was actually reading it, and was inundated by assurances that she has good reasons for being the unreasonably mistrustful, impulsive, violent harpy that she currently is.
I BELIEVE you. When EVERYONE is of the same opinion, it's silly to deny its likelihood. (<-----this needs a qualifier: when like-minded bookish people are ALL of the same opinion, I accept that it is most probably a reflection of what MY OWN opinion will be. After I've formed it. For myself. I AM NOT ENDORSING HERD MENTALITY.)
BUT.
That doesn't change the fact that right now she's an unreasonably mistrustful, impulsive, violent harpy.
Beyond Harry himself improving, there was also a solid plot with solid good guys and bad guys (the lack of which being my biggest complaint about STORM FRONT).
Some kind of werewolf is killing people in Chicago. And by "killing," I mean ripping, tearing, eviscerating, etc.
I've said it before, and I'll say it again: boys are gross. #sorrynotsorry
It's up to Harry to find out who. And also what. I said "some kind" of werewolf b/c there are apparently a lot to choose from, each varying degrees of, "Oh, shit."
The werewolf lore was very interesting, especially that twist at the very end. An insect-like demon giving teasers about Harry's mother, and more escapades with Harry's ability to "soulgaze" kept the pages turning, and I felt like Butcher really raised the bar.
However, it wasn't perfect.
There were eye rolls when a nerd was characterized by looking like he should have a pocket protector, and when Harry told the Bad Guy that he's "scum" . . . *rolls eyes*
BUT.
He also says things like this:
Christ. I wished the police were as savvy as these ne'er-do-wells.
And this:
That was black magic, and it was easy to use. Easy and fun. Like Legos.
And after he calls the Bad Guy "scum," he rallies and gives an epic smack down, with this as the parting shot:
"If we were in public, Mr. Dresden, I'd have you killed for speaking that way to me."
"If we were in public," I told him, "you'd try."
BOOM.
It's an interesting juxtaposition of "ne'er-do-wells" and black magic : legos analogies and "should have had a pocket protector" nerds and "ka-blowie"s. BUT. I see very good things.
On a completely random note, are any of you familiar with Jimmy Fallon's "Ew" sketch from SNL? B/c Jimmy's character has a stepdad named Gary, and every time Harry does something adorkable or something stupidly dangerous, in my head I'm yelling "Harry!" in the same voice that Sara (no "h" b/c h's are ew!) yells, "Gary! Ew, go away, Gary!" and it cracks me up. *shrugs awkwardly*
Anyway, suffice it to say that I am well and truly hooked by Dresden. Well done, Butcher. Well done. *tips hat*
The Dresden Files:
Was this review helpful to you? If so, please consider voting for it on Amazon or like it on Goodreads!
Related Posts