I hope you all had a wonderful week, and I seriously can't think of a better way to kick-off the weekend than with Bec McMaster and her book, OF SILK AND STEAM! Ok, maybe I can, and that's by sharing an excerpt, review & giveaway of this fifth installment in her LONDON STEAMPUNK series. In case you're wondering what the top graphic means, the organizers of this tour made bloggers to a little quiz prior to sending us the materials, and I got Rosalind which couldn't be more perfect.
Excerpt
Barrons looked at her. "Do you trust me?"
"No." His father would have cut her down without thinking, but Barrons was an enigma. If he were a different man, she would have enjoyed his attentions, but a part of her couldn't help wondering if his pursuit of her was just a way to get closer, to slip the knife in when she least expected it…
Could she trust that he meant her no harm?
His hand tightened around hers, dark heat sweeping through his irises. He focused on her so intently that she could almost feel it on her skin. "Then let us call a temporary truce for tonight. I shall help you escape. In return…"
"Yes?"
His voice roughened. "I want a kiss."
A kiss. Tension slid sinuously along her limbs, each muscle clenching. Those motives she could certainly understand. It didn't mean she had to like them.
Wariness spread through her as he lifted his hand and slowly, carefully brushed the back of his fingers against her lips. She didn't flinch. Instead she tipped her chin up and glared him down. "Help me escape and I shall grant you such a liberty." What harm could a single kiss do? "Until then"—she took a step back, her skirts swishing around her ankles—"I'll thank you to keep your hands to yourself."
His hand dropped but the ghostly sensation of that touch lingered, reminding her that it had been a long time since she'd been touched in any way intimately, and never like this. Never…soft. Full of gentleness, as if the very sensation of her skin beneath his was a pleasure in itself, not merely a step to greater satisfaction.
He was far more dangerous than she'd ever suspected, and she'd known, since the first moment she'd met him, that he was dangerous indeed. He was the only man who had ever managed to make her feel something.
[author] [author_image timthumb='on']http://3.bp.blogspot.com/-8rpRZUxqCKg/Uj3TdugHHdI/AAAAAAAAI8o/fSjTSue46gg/s1600/Bec+McMaster+Photo.JPG[/author_image] [author_info]
Author Bio
Bec McMaster lives in a small town in Victoria, Australia and grew up with her nose in a book. A member of RWA, RWA (Australia) and RWNZ, she writes sexy, dark paranormals and steampunk romance. When not writing, reading, or poring over travel brochures, she loves spending time with her very own hero or daydreaming about new worlds.
becmcmaster.com |@BecMcMaster | Facebook | GoodReads
[/author_info] [/author]
My Review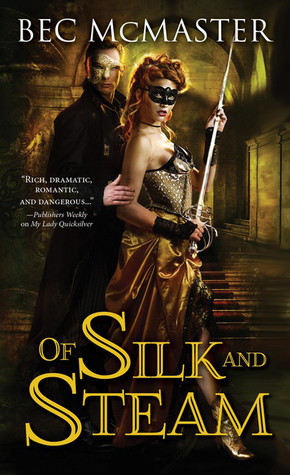 Of Silk and Steam

by Bec McMaster
Series: London Steampunk #5
Published by Sourcebooks Casablanca
Published on: March 3, 2015
Genres: Steampunk
Pages: 448
Format: eARC
Source: NetGalley

Enemies. Allies. Lovers.

When her beloved father was assassinated, Lady Aramina swore revenge. The man responsible is well beyond her grasp, but his dangerously seductive heir, Leo Barrons, is fair game. When Mina obtains evidence proving that Leo is illegitimate, she has the means to destroy both the killer and his son, a man who troubles her heart and tempts her body.

A woman of mystery, Mina's long driven Leo crazy with glimpses of a fiery passion that lurks beneath her icy veneer. He knows she's hiding something, and he's determined to unravel her layer by silken layer. He just doesn't expect the beautiful liar to be the key to overthrowing the corrupt prince consort… or to saving his own carefully walled-off heart.
Bec McMaster's LONDON STEAMPUNK series was my first experience with this particular Science Fiction subgenre, and I vividly remember being completely taken with this author's romantic writing style and alternate British Victorian era universe. After the first two installments, I found that the plot sputtered slightly, and then began its decline with FORGED BY STEEL. I briefly considered skipping OF SILK AND STEAM until I read the blurb, and realized that this was going to be Lady Aramina's story, the only female councilor among the Echelon. This novel triumphantly rekindled my love of this world, and its characters in one fell swoop.

The leading plot arc reaches its zenith in book 5, and what a beautiful thing it was! I enjoyed the way that the Blue Blood's political conspiracies developed side-by-side Mina & Leo's relationship, and that both threads held a comparable amount of intrigue. It's difficult to analyze these two aspects much further without giving anything away, and I don't want to mar McMaster's coup de grâce, but I will go so far as to confirm that the rookeries, humanist mouvement, Council of Dukes, Ivory Tower, and Nighthawks powerhouses all clash.

Readers have been getting small peeks at the Duke of Caine's heir throughout this series, and the Duchess of Casavian as well, although to a lesser degree because of her Ice Queen persona. I delighted in getting to know both of their characters on a deeper level; Mina's position within the Echelon was hard won, so her unwillingness to trust was logical, especially given her mysterious alliances. Barrons was more of an open book; I liked how he matched his lady's gumption tit for tat, and stayed true to his course regardless of the obstacles of which there were many.

What initially began as a straightforward feud between families speedily mutated into a complex Rubik cube of un-unravelable secrets, and unbeknownst deception. The main couple's relationship was definitely one of the more problematic out of the five visited so far, however you know what they say… the bigger the challenge the greater the reward! Mina and Leo set my eReader on FIRE with their insatiable hungers. I also utterly enjoyed touching base with all of this series' previous pairings, and how McMaster effortlessly worked them into this tale.

OF SILK AND STEAM made it into my top 3, possibly top 2 favourite LONDON STEAMPUNK installments.

Was this review helpful? If so, please like it on GoodReads or vote for it on Amazon!


Giveaway
a Rafflecopter giveaway
Related Posts