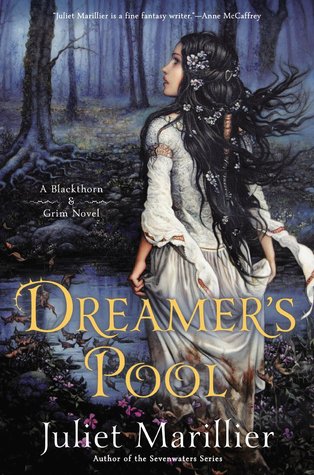 Dreamer's Pool

by Juliet Marillier
Series: Blackthorn & Grim #1
Published by Roc
Published on: November 4 2014
Genres: Fantasy
Pages: 448
Format: eBook
Source: Purchased

Amazon
|
Book Depo
|
Kobo
|
B&N
 |
GoodReads
Award-winning author Juliet Marillier "weaves magic, mythology, and folklore into every sentence on the page" (The Book Smugglers). Now she begins an all-new and enchanting series that will transport readers to a magical vision of ancient Ireland...

In exchange for help escaping her long and wrongful imprisonment, embittered magical healer Blackthorn has vowed to set aside her bid for vengeance against the man who destroyed all that she once held dear. Followed by a former prison mate, a silent hulk of a man named Grim, she travels north to Dalriada. There she'll live on the fringe of a mysterious forest, duty bound for seven years to assist anyone who asks for her help.

Oran, crown prince of Dalriada, has waited anxiously for the arrival of his future bride, Lady Flidais. He knows her only from a portrait and sweetly poetic correspondence that have convinced him Flidais is his destined true love. But Oran discovers letters can lie. For although his intended exactly resembles her portrait, her brutality upon arrival proves she is nothing like the sensitive woman of the letters.

With the strategic marriage imminent, Oran sees no way out of his dilemma. Word has spread that Blackthorn possesses a remarkable gift for solving knotty problems, so the prince asks her for help. To save Oran from his treacherous nuptials, Blackthorn and Grim will need all their resources: courage, ingenuity, leaps of deduction, and more than a little magic.
I know I mentioned that I'm a longtime fan of Juliet Marillier in the not too distant past. How I kept reading Shadowfell despite it's lackluster beginning, and how Raven Flight renewed my faith in her abilities.
There are many reasons for that faith, but the simplest way to explain it is that in fantasy there is a not-quite-stock character that I'm going to call the Storyteller (original, I know). This character is often a grandparent figure, a leader in an unofficial, but easily recognizable capacity, and is universally revered. They tell their stories both to entertain and to guide, and when they rule the pages of the book I'm reading, I become absolutely enthralled.
Juliet Marillier is a Storyteller made flesh, and DREAMER'S POOL is her most recent tale.
Blackthorn is a woman with the knowledge and ability to heal.
But she is not the typical peace-loving woman who lives in the forest with a beautiful garden of strange and wondrous growing things. No, she is not. She is a woman who has been rotting in a prison cell for nearly a year, and she is a woman who thirsts for vengeance to the exclusion of almost everything else.
So when one of the fey folk visits her—just after she's learned that the man who imprisoned her, the man upon whom she dreams to avenge herself, has arranged for her to be killed rather than having her case heard—and offers her freedom, but at a price: she must swear not to seek the revenge she so desperately desires for no less than seven years . . .
She almost refuses.
But she is, thankfully, not that blinded by hate, and when part of the dank underground prison suddenly collapses, Blackthorn knows it's her chance.
She doesn't escape alone.
A giant of a man called Grim also escapes, and the two of them make their way to where Blackthorn promised the fey she'd go . . . together.
Oran is a most unprincely prince. According to his mother, anyway. He is a Romantic who has been avoiding the business of finding a wife, b/c he doesn't want it to be business.
And it's seems his wish is granted in the lovely Lady Flidais, but when she arrives . . . he finds her shockingly dissimilar to the woman with whom he'd been corresponding, and he becomes convinced that something nefarious is afoot.
But is that simply wishful thinking?
DREAMER'S POOL flawlessly intertwines these two separate stories so that the whole is much greater than the parts. The slow but sure development of a real partnership between the emotionally vacant Blackthorn and the haunted-by-some-unknown-past Grim is heart-wrenching to witness, as is watching Oran's dreams seemingly crumble to dust. But there are strange things happening in Oran's kingdom, and they can all be traced back to a pool in a fey wood.
Will they discover the truth before Oran finds himself wed to a woman he neither likes nor respects?
Read it and find out. Highly recommended.
Blackthorn & Grim:
Was this review helpful to you? If so, please consider voting for it on Amazon or like it on Goodreads!
Related Posts