I'd like to thank Sara Humphreys for taking the time out of her busy writing schedule to share an excerpt from her newest book, VAMPIRES NEVER CRY WOLF, with Rabid Readers, and for the generous prize pack giveaway. Don't forget to check-out my review before you leave!
Excerpt
Sadie forced herself to look Killian in the face, and the instant she did, she knew it was a colossal mistake. His eyes looked like pools of liquid gold, and she could swear he saw straight through to her very soul. A growl rumbled in his chest and Sadie gasped. His eyes flickered and shifted into the glowing amber eyes of his wolf. The sudden and instinctive change was a glaring reminder of who he was…who they both were.

In a remarkably steady voice, Sadie whispered, "Last night should never have happened."

"The only thing about last night that shouldn't have happened was the way it ended," Killian rasped.

Sadie stilled when his large hand cradled her cheek. Despite her best efforts to resist him, her body quivered uncontrollably as he surrounded her in every way a person could be surrounded. When the heat of his palm seared against her skin, a needy moan escaped her lips. Desire curled inside her like smoke, and regardless of the litany of warnings that ran through her head, Sadie's hands found their way to the front of Killian's shirt. She grasped the fabric, still warm from the heat of his body, and pulled him closer. Sweet Jesus, the man had a body that looked like it had been hand carved by the gods themselves.

"Is that so?" Sadie pulled his shirt loose from his jeans and slipped her fingers underneath before trailing them along the hard planes of his stomach. Arching one eyebrow, she held his heavy-lidded gaze. "How do you suppose it should have ended?"

"The same way it should end every night from now on," he growled. Killian slid both hands into her long hair. Sadie shivered when his fingertips grazed her scalp. He pressed his hips against her before slipping his thigh between her legs. Sadie gasped with pleasure as he put pressure on just the right spot, and when a moan escaped her parted lips, a cocky grin emerged on his. Killian tightened his grip on her hair and leaned in so his mouth was just a breath away. "Every single night should end with me buried deep inside you."
[author] [author_image timthumb='on']http://rabidreads.ca/wp-content/uploads/2015/03/SaraHumphreys.jpg[/author_image] [author_info]
Author Bio
Sara Humphreys has been attracted to the fantasies of science fiction, paranormal, and romance since her adolescence when she had a mad crush on Captain Kirk. An actress and public speaker, Sara lives in Bronxville, New York with her husband, who is very considerate of her double life, and four amazing boys.
Website | Facebook | Twitter | Pinterest | Goodreads
[/author_info] [/author]
My Review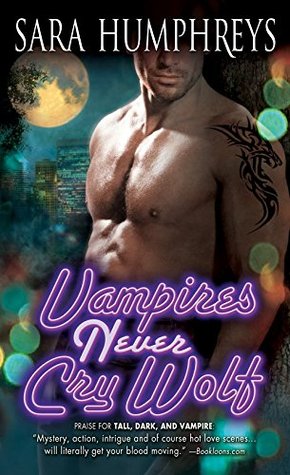 Vampires Never Cry Wolf

by Sara Humphreys
Series: Dead in the City #3
Published by Sourcebooks Casablanca
Published on: March 3, 2015
Genres: Paranormal Romance
Pages: 320
Format: eARC
Source: NetGalley

Vampires are nothing but trouble...
As far as beautiful vampire Sadie Pemberton is concerned, werewolves shouldn't be sticking their noses into New York's supernatural politics. They don't know jack about running a city-not even that hot-as-sin new vampire-werewolf liaison who's just arrived in town.

Werewolves are too sexy for their own good...
The last thing Killian Bane wanted was to end up in New York City playing nice with vampires. Unfortunately, he's on a mission, and when he encounters the sexiest, most stubborn female vamp he's ever met, he's going to have to turn on a little of that wolfish charm...and Sadie's going to learn a thing or two about what it means to have a wild side...
Sara Humphreys writes good books about vampires and shifters, and has two series to prove it. The fun part is, sometimes the two different species do show up in both series. Since I read both of these series, this book was a welcome one for me.

Sadie is a couple of hundred years old vampire, and is now the owner of The Coven, since the former owner, Olivia, is now the czar, along with her husband Doug, of New York City. Now that the prince of the werewolves, Killian, is spending every evening at Sadie's nightclub, she spends a lot of her time wondering about him, and pretty much mooning over him. Not that she would admit it or anything. Killian's excuse for hanging out there is for research for his own nightclub that will be opening soon. Actually he is very interested in Sadie for himself. Since he is heir to the throne, his family, and all of the werewolves would never allow him to have a vampire for his queen. Killian is really hating his legacy, because all he wants seems to be Sadie. Sadie still remembers the war that the vampires and werewolves waged against each other, so weres are really not her favorite thing, but even she can't deny her feelings towards Killian.

Ms. Humphreys knows how to weave romance and suspense together like nobody's business. Since all of these books, including her other, Amoveo series, usually have suspense involved, this is writing to her forte. Her other strength is in her world building. Her view of supernatural life is both entertaining, and a bit different then a lot of other authors. Of course some of it is similar, but I thought the Amoveo series was an interesting depiction of shifters, and I highly recommend those books to fans of shifter reads. At least a couple of the characters from those books have crossed over into this series. I always enjoy seeing characters from previous reads in a new book. In this series, the bloodmate bond, and the powers involved are what makes it more unique then other vampire reads.

Speaking of characters, I enjoyed getting to know Sadie and Killian better. The author's back story for Sadie, and her turning to vampire back in the old West, was a pretty fascinating story. Now Sadie is a beautiful business woman, one that has never really loved anyone. Killian lives with all the expectations of being heir to the throne. He wants to be king, but he wants it on his terms, and that involves mating with someone he loves, and not someone that would be good for the throne. Another character is introduced, Christina. Every book needs a villain, and as the one the King wants Killian to marry, she's a good one. And she is just one of the villains that was introduced into this series.

Good premise, good characters-each with an interesting back story, suspenseful elements, complicated romance, all make for a paranormal romance that I highly recommend to adult romance readers.


Giveaway
a Rafflecopter giveaway
Related Posts