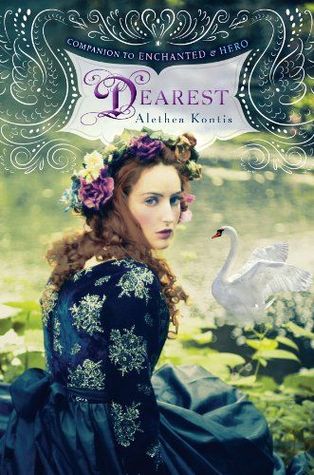 Dearest

by Alethea Kontis
Series: Woodcutter Sisters #3
Published by HMH Books for Young Readers
Published on: February 3 2015
Genres: Fantasy, Young Adult
Pages: 288
Format: eARC
Source: NetGalley

Amazon
|
Book Depo
|
Kobo
|
B&N
 |
GoodReads
In her third book about the delightful Woodcutter sisters, Alethea Kontis masterfully weaves "The Wild Swans," "The Goose Girl," and a few other fine-feathered fairy tales into a magical, romantic companion novel to Enchanted and Hero.

Readers met the Woodcutter sisters (named after the days of the week) in Enchanted and Hero. In this delightful third book, Alethea Kontis weaves together some fine-feathered fairy tales to focus on Friday Woodcutter, the kind and loving seamstress. When Friday stumbles upon seven sleeping brothers in her sister Sunday's palace, she takes one look at Tristan and knows he's her future. But the brothers are cursed to be swans by day. Can Friday's unique magic somehow break the spell?
SO. We all know that I love fairy tales. And while I'd had the Woodcutter Sisters on my TBR for years, a couple of months ago I wouldn't have even been able to tell you where my copy of Enchanted (book 1) was. Truthfully, I still don't know, but that sad fact was made irrelevant when I snagged the kindle version on sale for $1.99. *fist pumps*
Anyway, the reason I hadn't actually gotten around to reading Kontis is . . . pretty silly . . .
You see . . . I made an assumption.
Along with the delightful mashup of classic fairy tale characters, and the new adventures they have in this series, Kontis also writes children's books. Small children's books. Small children's alphabet books.
And so . . . I decided the version of fairy tale she would tell would be of the cutesy, heroine with a vacant gaze variety.
Then came Dragon Con.
I mostly followed the Urban Fantasy tract, but (fortuitously) there was a bit of UF/YA crossover, and in the Back to the Roots: Incorporating Folklore & Mythology in Urban Fantasy panel there were several YA authors, one of which was Alethea Kontis . . .
I realized within minutes of making her acquaintance that I had made a terrible mistake.
Not only was she hilarious and wildly entertaining, but . . . when she began lamenting how most of her target audience was completely unfamiliar with anything but the Disney version of fairy tales, and how the original stories were seriously dark, I knew I had found a kindred spirit. She even used my favorite example to make her point: The Seven Ravens, in which the child heroine has to cut off her own finger to use the bone as a key when rescuing her brothers.
Ooohhh yeaaaaaah. Brothers Grimm, baby!
I've obviously since devoured these books, and let me tell you . . . when I requested an ARC of Dearest on NetGalley, I was thrilled to be approved almost immediately. BUT. When I went to download said ARC, and discovered it was one of the rare books in non-kindle format . . . first, I was blinded by frustrated rage (b/c overreaction), but when I calmed myself . . . I spent an embarrassingly long time figuring out what app (Bluefire—fyi) I needed in order to read it.
And listen, people—I have gotten at least half a dozen non-kindle eARCs in the past, and I have promptly refused them ALL (b/c not a fan of reading entire books on my phone or laptop). BUT. I loved the previous two Woodcutter Sisters enough books to do it.
Dearest was every bit as wonderful as the previous installments.
Monday's child is fair of face,
Tuesday's child is full of grace,
Wednesday's child is full of woe,
Thursday's child has far to go,
Friday's child is loving and giving,
Saturday's child works hard for a living,
But the child who is born on the Sabbath Day
Is blithe and bonny and good and gay.
There are seven Woodcutter sisters, each named a day of the week, and Dearest is Friday's book.
To be completely honest, I was a bit leery of this one, b/c Friday was probably my least favorite of the sisters. She was the good sister. The selfless sister. The hard-working and charitous sister.
And while all of those are nice things to be . . . they're also downright dull.
BUT. Having the platform for the first time revealed Friday's previously unknown and not-in-the-least-bit-dull depths. For one, she's boy crazy. Hilariously, not frustratingly so, b/c while you hear the recollections of boys past, you don't have to witness them first hand. She's wonderful with the always entertaining children that follow her like the Pied Piper, and she also has an endearing innocence that blinds her to the ridiculousness of her desire to join the chaste sisterhood she so often labors for.
If you still find the boy crazy part concerning, worry not—her previous infatuations pale in comparison to her true love, and she instantly recognizes the differences.
And like her sister's stories, Friday's is yet another breathtaking assortment of odds and ends, bits and bobs of well-known and loved classic tales, woven together in such a way that they are both entirely new and entirely faithful to their original versions. *grins* See what I did there . . . ? B/c Friday is a gifted seamstress . . . ? *grins some more*
Yeah, fine, I'm a dork. *embraces dorkness*
Bottomline: Highly recommended. If you love fairy tales, you will love this series. Even if you are among the majority who only know Disney's version of events, you will love this series. Don't be scared off by the mutual affection Kontis and I have for Grimm, b/c while, YES, the details stay true to their European roots, the Woodcutter sisters always live happily ever after. *pinky promises*

Was this review helpful to you? If so, please consider voting for it on Amazon or like it on Goodreads!


A themed tour with Prism Book Tours.
[author] [author_image timthumb='on']http://aletheakontis.com/wp-content/uploads/2009/09/Alethea-Lumos-2.jpg[/author_image] [author_info]New York Times bestselling author
Alethea Kontis
is a princess, a fairy godmother, and a geek. She's known for screwing up the alphabet, scolding vampire hunters, and ranting about fairy tales on YouTube.
Her published works include:
The Wonderland Alphabet
(with Janet K. Lee),
Diary of a Mad Scientist Garden Gnome
(with Janet K. Lee), the AlphaOops series (with Bob Kolar), the Woodcutter Sisters fairy tale series, and
The Dark-Hunter Companion
(with Sherrilyn Kenyon). Her short fiction, essays, and poetry have appeared in a myriad of anthologies and magazines.
Her YA fairy tale novel,
Enchanted
, won the Gelett Burgess Children's Book Award in 2012 and the Garden State Teen Book Award i 2015.
Enchanted
was nominated for the Audie Award in 2013, and was selected for World Book Night in 2014. Both
Enchanted
and its sequel,
Hero
, were nominated for the Andre Norton Award.
Born in Burlington, Vermont, Alethea currently lives and writes in Florida, on the Space Coast. She makes the best baklava you've ever tasted and sleeps with a teddy bear named Charlie.
Website – Goodreads – Facebook – Twitter – YouTube – Tumblr – Instagram – Pinterest
*Alethea Kontis courtesy of Lumos Studio 2012
[/author_info] [/author]
Check out Alethea's Road Tour HERE!
Tour-Wide Giveaway
3 Woodcutter Sisters Prize Packs (signed copies of Enchanted, Hero, & Dearest – US Only). Ends March 8th
a Rafflecopter giveaway
Related Posts