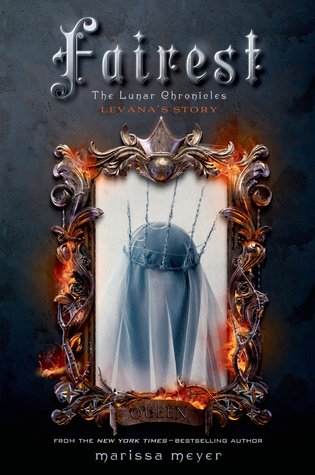 Fairest

by Marissa Meyer
Series: The Lunar Chronicles #0.1
Published by Feiwel & Friends
Published on: January 27 2015
Genres: Science Fiction, Young Adult
Pages: 272
Format: Hardcover
Source: Purchased

Amazon
|
Book Depo
|
Kobo
|
B&N
 |
GoodReads
In this stunning bridge book between Cress and Winter in the bestselling Lunar Chronicles, Queen Levana's story is finally told.

Mirror, mirror on the wall,
Who is the fairest of them all?

Fans of the Lunar Chronicles know Queen Levana as a ruler who uses her "glamour" to gain power. But long before she crossed paths with Cinder, Scarlet, and Cress, Levana lived a very different story – a story that has never been told . . . until now.

Marissa Meyer spins yet another unforgettable tale about love and war, deceit and death. This extraordinary book includes full-color art and an excerpt from Winter, the next book in the Lunar Chronicles series.
WELP. We used to have the WTF Elephant. Now we have the WTF fork. BUT fork or elephant, the principle is the same.
It didn't occur to me that some readers might skip this installment of The Lunar Chronicles, counting it as a novella. Technically, while being a prequel, I think it's still a full-length novel. I don't know the word count, but I did the math (with a calculator, and everything), and even excluding the preview of Winter that begins at 79%, Levana's story is still over 200 pages.
Fyi.
And regardless, any fan of the series will want to read this book, b/c:
1. What does Levana really look like under that veil?
2. What happened to Levana's husband, and how did Winter end up in her care?
3. What is the depth of Levana's evil?
And those are just a few of the questions that Fairest answers.
Also . . . as it turns out, Levana might just be as crazy as she is nefarious. The end result is the same, of course, but I was surprised. If she was simply a narcissist, I might not have been, and that's definitely part of the crazy, but guys . . . this woman is diabolically insane.
It's uncomfortable.
I had the misfortune of agreeing with my husband to Pillars of the Earth as our holiday driving read this year . . . I loathed it. And for once I didn't have to analyze what it was that made me loathe it: there are just some people's heads you don't want to be inside of.
Clearly, I didn't hate Fairest, but sharing Levana's headspace is . . . well, it's stressful, I was full of stress. And awkward. I don't think I'd like to see a picture of myself while I was reading, b/c I'm pretty sure if my face wasn't stuck in perpetual grimace, my eyebrows were at my hairline with my eyes bugging out of my head, b/c WTF?
Levana had not seen the bodies, but she had seen the bedrooms the next morning, and her first thought was that all that blood would make a very pretty rouge on her lips.
Those bodies? Yeah, they were her PARENTS. Her parents who had been MURDERED. And that is the least of it.
In addition to finding out what's going on under that veil, you also find out why she choose the specific glamour she uses . . . and it is . . . W-H-O-A (and I'm totally making that face again).
Are there reasons for the CRAY?
Oh yeah. And you learn those too.
Did it make Levana a more sympathetic character?
NOPE. Not to me, anyway. Just like Channary (Cinder's mother) wasn't made a more sympathetic character just b/c she showed a few surprisingly maternal instincts.
Am I a hardass? Maybe. Probably. But I've said it before, and I'll say it again: it's not what you've been through, it's how you handle it that matters, and I have a sneaking suspicion that even without the crazy (b/c Bad Things), Levana would still be diabolical.
Overall, Fairest paints an unambiguous portrait of the most vile villain to ever plague (HA!) both Lunars and Earthens. It cleverly weaves together multiple threads from the characters that readers have grown to know and love in previous installments of The Lunar Chronicles, and reveals, step-by-murderous-and-entitled-step, how Levana and her immediate family have sown the seeds of their own inevitable downfall. Highly recommended.
The Lunar Chronicles:
Was this review helpful to you? If so, please consider voting for it on Amazon or like it on Goodreads!
Related Posts