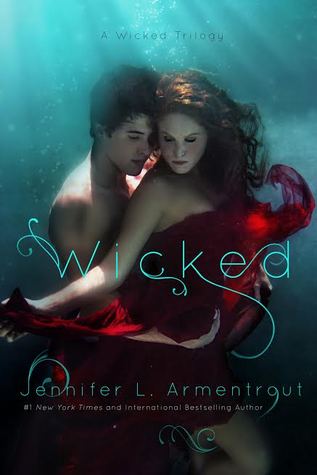 Wicked

by Jennifer L. Armentrout
Series: Wicked #1
Published by Indie
Published on: December 8, 2014
Genres: New Adult, Paranormal Romance
Pages: 300
Format: eBook
Source: Purchased

Amazon
|
Book Depo
|
Kobo
|
B&N
 |
GoodReads
Things are about to get Wicked in New Orleans.

Twenty-two year old Ivy Morgan isn't your average college student. She, and others like her, know humans aren't the only thing trolling the French Quarter for fun… and for food. Her duty to the Order is her life. After all, four years ago, she lost everything at the hands of the creatures she'd sworn to hunt, tearing her world and her heart apart.

Ren Owens is the last person Ivy expected to enter her rigidly controlled life. He's six feet and three inches of temptation and swoon-inducing charm. With forest-green eyes and a smile that's surely left a stream of broken hearts in its wake, he has an uncanny, almost unnatural ability to make her yearn for everything he has to offer. But letting him in is as dangerous as hunting the cold-blooded killers stalking the streets. Losing the boy she loved once before had nearly destroyed her, but the sparking tension that grows between them becomes impossible for Ivy to deny. Deep down, she wants… she needs more than what her duty demands of her, what her past has shaped for her.

But as Ivy grows closer to Ren, she realizes she's not the only one carrying secrets that could shatter the frail bond between them. There's something he's not telling her, and one thing is for certain. She's no longer sure what is more dangerous to her—the ancient beings threatening to take over the town or the man demanding to lay claim to her heart and her soul.
Wicked. I think that could describe Jennifer Armentrout as well as the book she wrote. When you read a book, and at the end want to yell at your Kindle, and then throw it, well then the author is just evil, or in this case, Wicked. Don't get me wrong, I have never read a book by Ms. Armentrout that I didn't love, and this book is no exception. Summer(hoping for June) of 2015 can't get here soon enough for book 2 in this trilogy.

It's no secret that I enjoy urban fantasy, but of course some books are better then others. This book falls in the AMAZING category for me. And for me the amazing part was the main characters, and the chemistry between the two. This author knows how to write sexual tension like nobody's business. Boat loads of chemistry going on here! Another amazing part was a side character. More about that later.

The story? It's interesting, well written, with world building for days. Ivy is a fae hunter on the streets of New Orleans. She is part of the Order, an organization where hunters are born to be able to see past the glamour of the fae, in order to kill them. Ren has recently come to the Order in New Orleans with his own agenda. He is hunting for a rare type of fae, the kind that can turn the world upside down. Whereas Ivy, is afraid to love, having lost her only boyfriend horribly, several years before, Ren knows exactly what he wants, and he wants Ivy. Truthfully, if you need a new book boyfriend, Ren fits all the criteria. Handsome, deadly, with a sweet side a mile long for Ivy, he is the perfect hero. Ivy is beautiful per Ren, but not by Ivy's standards, and although deadly, she is shy with Ren-although she hides it with a side of snark.

So now I want to talk about one of the side characters, and yes he deserves his own paragraph. Tink is a Brownie straight out of the Underworld, and he is Ivy's roommate. She should have killed him, but didn't, and now he is just family to her. And he is hilarious. Laugh out loud hilarious. He's got an attitude and he doesn't care what he says. He spends his time with the one click button on Amazon, and has a fascination with troll dolls and Harry Potter. I could go on and on. He is one of the most well realized new characters that I have read in awhile, and I enjoyed every minute he is in the story. Of course it doesn't help that if he is found by the Order, he will be killed. Or that he has secrets of his own.

On purpose, I have left out what horrible problem is afflicting New Orleans. Suffice it to say, this book is full of action, deaths, betrayals, humor, and of course romance. It has every element that I love in a book, and I think all adult paranormal romance/urban fantasy fans will find something to love as well.



Related Posts