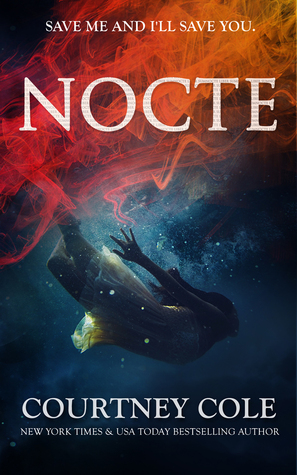 Nocte

by Courtney Cole
Series: The Nocte Trilogy #1
Published by Lakehouse Press Inc
Published on: November 3, 2014
Genres: New Adult
Pages: 277
Format: eBook
Source: Purchased

Amazon
|
Kobo
|
B&N
 |
GoodReads
Save me and I'll save you...

My name is Calla Price. I'm eighteen years old, and I'm one half of a whole.
My other half-- my twin brother, my Finn-- is crazy.

I love him. More than life, more than anything. And even though I'm terrified he'll suck me down with him, no one can save him but me.

I'm doing all I can to stay afloat in a sea of insanity, but I'm drowning more and more each day. So I reach out for a lifeline.

Dare DuBray.

He's my savior and my anti-Christ. His arms are where I feel safe, where I'm afraid, where I belong, where I'm lost. He will heal me, break me, love me and hate me.

He has the power to destroy me.

Maybe that's ok. Because I can't seem to save Finn and love Dare without everyone getting hurt.

Why? Because of a secret.

A secret I'm so busy trying to figure out, that I never see it coming.

You won't either.


I am at such of a loss at what to say after reading this book. It is just mind blowing. I thought, reading the synopsis and looking at the cover that this was a paranormal book but it's really not but it is very dark and mysterious and will keep you guessing until the very last page.

I'm still going over in my head on how to write this review, so bear with me! Okay, so the main character is Calla Price. She lives in Oregon, on a mountain, with her parents and her brother. Her father is a mortician and they live upstairs above the funeral home. Her and her brother are twins. Its always just been her and Finn. Growing up all the kids at school made fun of them for living where they do and always being around dead people. The story starts off with Calla on the phone with her mom, who is on the way home and her mom gets into a car accident and dies. Calla blames herself for her mom dying and she has a hard time getting over all of it. Finn has had mental problems and Calla believes that she is the only one who can help him. The story switches POV's between Calla and Finn so you get a sense of how he thinks and what he's going through. Her father is very quiet and doesn't talk to her about her mother very much, he's having as hard as a time as she is getting over it. Calla takes Finn to group therapy whenever he feels like he needs to go and that's when Dare comes into the story.

Dare shakes his head. " I don't believe in fatal flaws."
I pause, staring up at him. "Really? Then what, pray tell, will be your downfall?"
Dare pauses too, surveying me with his arms dangling limply by his sides.
"There's a very good chance it'll be you."

I LOVE Dare. He's the sexy British new guy in town that Calla falls for. There is so much to his character and who he really is. Since the first time he comes into the story he's very mysterious and your not really sure why he's there and even after the ending I'm not really sure. You find out some of it towards the end, but the cliff hanger, oh my. The cliff hanger just leaves you with more questions than when you started the book. I just want to pull my hair out right now writing this review because its so hard to explain everything that is so mind blowing about this book without giving all of it away! You are seriously never going to guess the ending, who Dare is and why he's there, and what Finn is up to. I had such a hard time putting this book down because I had to know what was going to happen. I seriously need book two right now because I need to know!!!! This is the first book I've read by Courtney Cole and I absolutely loved it, devoured it! I really hope y'all give this one a chance because, like I've said, it is mind blowing and you will not stop guessing what is going on until the end…and after the end. My mind is still blown.



Related Posts