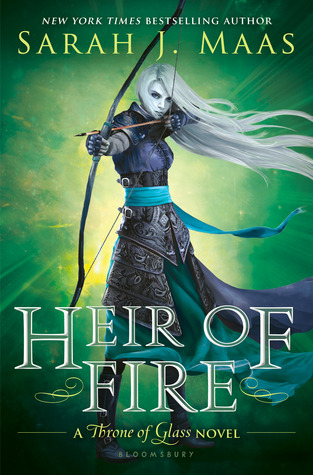 Heir of Fire

by Sarah J. Maas
Series: Throne of Glass #3
Published by Bloomsbury USA Childrens
Published on: September 2 2014
Genres: Fantasy, Young Adult
Pages: 565
Format: eARC
Source: NetGalley

Amazon
|
Book Depo
|
Chapters
|
Kobo
 |
GoodReads
Lost and broken, Celaena Sardothien's only thought is to avenge the savage death of her dearest friend: as the King of Adarlan's Assassin, she is bound to serve this tyrant, but he will pay for what he did. Any hope Celaena has of destroying the king lies in answers to be found in Wendlyn. Sacrificing his future, Chaol, the Captain of the King's Guard, has sent Celaena there to protect her, but her darkest demons lay in that same place. If she can overcome them, she will be Adarlan's biggest threat – and his own toughest enemy. 

While Celaena learns of her true destiny, and the eyes of Erilea are on Wendlyn, a brutal and beastly force is preparing to take to the skies. Will Celaena find the strength not only to win her own battles, but to fight a war that could pit her loyalties to her own people against those she has grown to love?
NO SPOILERS.
Heir of Fire begins with Celaena lazing about on a rooftop in Wendlyn's capital city, drinking cheap wine (that she stole) from a jug, and feeling sorry for herself.
Actually, she wasn't drinking it. She was looking  for it, and when she found it, it was empty (having already been drunk). Shortly thereafter, she gets mistaken for a vagrant . . .
By a vagrant. *snorts*
But as funny as that was, for the first 15-20% of the book, I thought we were getting ToG's version of Harry Potter and the Order of the Phoenix.
If you haven't read Harry Potter, book 5 was filled with teenage ANGST and wallowing and self-pity, and as much as I appreciated Rowling writing the book accurately in terms of Harry's adolescence, it was still my least favorite book in the series.
Fortunately, it didn't take long to see that Celaena wasn't wallowing . . . she was . . . trying to cope.
The depth of her sorrow and regret . . . (<——it HURTS).
Maas communicates Celaena's anguish so deftly that you can see her, hear her, feel her agony.
But Celaena has never been one to sit around and twiddle her thumbs, feeling sorry for herself. She pushes the things that hurt her to the side. She ignores them, and focuses on the task at hand.
And that works fairly well for her . . . until it doesn't . . .
I think a lot of us can relate to that tendency. I see myself in her ostrich-like avoidance tactics, and I know firsthand that no matter how hard you try not to think about something, there will always be seemingly innocuous things that act as triggers . . . triggers that send you spiraling into the depths of despair, b/c you have refused to deal with the things that lay heavy on your soul.
"Because she is dead!" She screamed the last word so loudly that it burned in her throat. "Because she is dead, and I am left with my worthless life!"
Have you ever screamed like that? Screamed so loudly out of fury and despair that it feels like the lining of your throat is being eaten away by the acid that fills you?
Celaena has . . . and bearing witnessing to it almost makes you feel like you have too.
So we have Celaena desperately trying to control her magic, desperate for answers about the wyrdkeys, desperate not to look too closely at the guilt that surrounds her like a fog.
And then we have Rowan Whitethorn . . .
Rowan Whitethorn is a world-class jackhole. He's verbally abusive, he's scary as hell, and he is pissed about being ordered to babysit Celaena.
But as with Celaena, there was more to Rowan than the obvious. He is nursing his own hurts, and also like Celaena, he uses emotional distance to protect himself from further injury. Their similarities allow them to REALLY understand each other:
"You collect scars because you want proof that you are paying for whatever sins you've committed. And I know this because I've been doing the same damn thing for two hundred years. Tell me, do you think you will go to some blessed Afterworld, or do you expect a burning hell? You're hoping for hell–because how could you face them in the Afterworld? Better to suffer, to be damned for eternity and–" 
But Rowan isn't the only new character we meet in Heir of Fire.
I don't know if any of you are Sarah J. Maas fangirls like I am, but I've been stalking her on Pinterest since before Throne of Glass was released. If you stalk her too, then you've been looking forward to meeting Manon Blackbeak as much as I have. Manon Blackbeak, heir of the Blackbeak Witch-Clan. Manon Blackbeark, who wears the scarlet cloak of the teenaged Crochan witch who was her first kill. Manon Blackbeak who says things like:
It would be nice—really damn nice—to peel off the Yellowlegs heir's face one day.
YIKES. Clearly Manon is more than just a surprisingly pretty face—she is clever and determined and ruthless . . . I'm fairly certain that she and Celaena would have been friends in another life.
The last important character we meet in Heir of Fire is Aedion Ashryver, Celaena's cousin and childhood friend. Briefly mentioned in Crown of Midnight, we learned that he grew up to be one of Adarlan's fiercest generals.
And perhaps that is the reason we haven't heard more about him before now. As discussed, Celaena is a master at avoiding painful subjects, and a beloved friend who is perhaps the only surviving member of her family (on the continent), who rains terror on the remnants of Terrasen at the King's command would certainly qualify as "painful."
But once again, Maas gives us a character with depth, and Aedion almost immediately shows himself to be fiercely loyal to Celaena:
"All I want," he snarled, "is for my people to be free and my queen restored to her throne."

"They burned the antler throne, Aedion. There is no throne for her."

"Then I'll build one myself from the bones of our enemies."
As much as I hated Celaena's separation from the characters we all know and love, I loved the new characters too much for it impact my overall reading experience. I LOVE THIS BOOK.
My only issue was the POV changes in the first several chapters. They occurred frequently, sometimes lasting only 4 or 5 pages at a time, and the result felt choppy and disjointed. So if that's a problem for you as well, don't give up—it gets better, I promise.
And just b/c I can't help myself . . . this isn't a spoiler exactly, b/c if you haven't read Heir of Fire yet, it won't make sense to you. It's a pin I found on SJM's Throne of Glass board that inspired one of my favorite scenes from the book. ALSO, the pics of Rowan, etc. are also SJM pins and hyperlinked back to the originals, as is this one:
View Spoiler »
« Hide Spoiler
Throne of Glass remains my favorite YA series, and in Heir of Fire, Sarah J. Maas proves that she has staying power. She continues to create places we long to visit, if only they were real, and characters that I'm not entirely convinced aren't real. Surely, given the depth of emotion Maas is able draw out of her readers, they must exist somewhere. Or maybe Maas is just a true artist who makes us feel and believe and that is enough.
Throne of Glass series:
Related Posts