I'm thrilled to be kicking off the first week of Stomp vs Romp by asking one of my favourite Urban Fantasy authors, Jennifer Estep, a few action related questions. The latest book in her ELEMENTAL ASSASSIN series, POISON PROMISE, was just released on July 22nd, and the twelfth installment is due out before the end of 2014.
1- What's your secret to making your 11th installment as action packed as your first?
[box]Every time I sit down to write an Elemental Assassin book, I always try to think of new things – new places for Gin to visit in Ashland; new bad guys with different kinds of magic for her to take on; and new ways that she can use her own magic to defeat the bad guys.
So the action scenes sort of flow out of those choices, as well as where the characters and story take me. But I always have a lot of fun coming up with the action scenes and then trying to make them as exciting, interesting, and dynamic as possible.[/box]
2- Gin's weapon of choice are her silverstone knives which pretty much guarantees at least one hand-to-hand fight in each book. Is that why you picked them as opposed to say a gun? How accurate are these sequences? Did you research blade combat, watch samurai movies, or take-up sword play beforehand?
[box]I thought that the knives would fit in with Gin's character and the overall world building and magic system better than another weapon would. Plus, like you said, knives lend themselves to more hand-to-hand fights, which I think are more interesting, both to write and to read.
I love a good action story and scene, so probably the closest research that I do is watching action movies and TV shows.
These are fantasy books, so you want things to be somewhat realistic, but still have that magical quality and world building that makes everything a little more high-stakes and larger-than-life.[/box]
3- What are some of the challenges of writing action scenes as opposed to romantic ones?
[box]They both have their challenges. But I think that writing an action scene is a tough balancing act. You have a lot of different elements that you have to blend together – action, dialogue, emotion, good guys, bad guys, etc. – and it can be hard to put all those things together in an exciting scene that propels the story forward.
But when you're writing an action scene, you definitely want the reader to feel like they are there, watching the fight from a front-row seat, and seeing the blood, sweat, and tears of the good guys and the bad guys.[/box]
4- There are some really high octave scenes in POISON PROMISE, I especially loved the Aston Martin battering ram chapter. Do you live vicariously through your characters, or do you have a go-to 'violent' release (i.e. gun range, bumper cars, boxing, etc)?
[box]Thanks! That was a really fun scene for me to write. Yoga is about as violent as I get. LOL. So I would say that I do live vicariously through Gin from time to time when I'm writing, especially since she's way cooler, smarter, and tougher than I could ever be.[/box]
5- What traits help make Gin Blanco such a badass heroine, and proficient killing machine?
[box]I would say her willingness to do whatever it takes to protect her friends and family. That's really the core thing that drives Gin. She's lost several people in her life – her mom, her sister, and her mentor – so she's determined that she's not going to lose anyone else. No matter what she has to do to keep everyone safe, and even if she's the one who gets hurt along the way instead.[/box]
6- In your own words (or those of a character, fav motto, book quote, etc), why is action better than romance?
[box]Your question made me think about the line in The Princess Bride movie, where the grandson asks his grandfather – "Is this a kissing book?" The grandson doesn't like the kissing scenes at first, but at the end of the movie, he decides that a little kissing is okay.
I'm the same way. I love romance in books. But my favorite kind of books, movies, and TV shows are those with a little bit of everything in them – magic, action, adventure, danger, and romance. Movies like The Princess Bride, Romancing the Stone, RED, or the first Pirates of the Caribbean or TV shows like Arrow and Burn Notice. Stories where the hero and heroine fall in love while they're being chased by the bad guys or trying to save the world.
As a writer, I would rather write an action scene than a romance scene. Because explosions, car chases, and fights to the death make everything better. LOL.
Happy reading, everyone![/box]
[author] [author_image timthumb='on']http://1.bp.blogspot.com/-EulFH_CRwZg/UUER1-3yewI/AAAAAAAAHeQ/s2DhLcBCQJ4/s320/JenniferEstep.jpg[/author_image] [author_info]
Author Bio
Jennifer Estep is a New York Times bestselling author, prowling the streets of her imagination in search of her next fantasy idea.
Jennifer writes the Elemental Assassin adult urban fantasy series for Pocket, the Mythos Academy young adult urban fantasy series for Kensington, and is also the author of the Bigtime paranormal romance series. Excerpts, free short stories, and more information on Jennifer's books can be found at
Website | Blog | Facebook | Twitter | GoodReads
 [/author_info] [/author]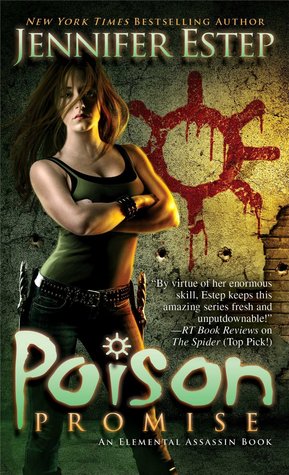 I specialize in making death wishes come true.

Pop quiz. Which do you think is deadlier: Burn, the nastiest drug ever to hit the mean streets of Ashland, or me, Gin Blanco, the assassin known as the Spider? Answer: Me—because I don't kill you slowly.

Normally, drug dealers aren't my department. But I'm turning up the heat on some relentless Burn-pushing thugs who won't leave my friends alone. Pushers who have my cop sister beside herself with rage, so I'm stepping up to keep her from doing something stupid and getting herself killed. Once I'm in, I'm in, and these folks have picked their poison: the Spider's venom. But even bad guys have their good days, and sometimes even my Ice and Stone magic isn't enough. For behind the drug is a vicious vampire with a scientific eye for results. And behind him… trouble like I haven't seen since I took down my legendary nemesis, Mab Monroe.
Elemental Assassin Series:


My Review


My Review


My Review


My Review


My Review


My Review


My Review


My Review


My Review


My Review


My Review

Giveaway
a Rafflecopter giveaway
Visit The Book Nympho to read today's ROMP post by
Michelle M. Pillow
, then VOTE for your fav!
Related Posts