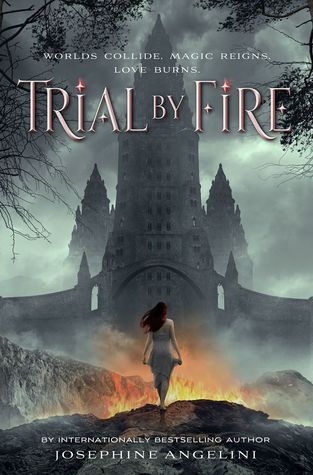 Trial by Fire

by Josephine Angelini
Series: The Worldwalker Trilogy #1
Published by Feiwel & Friends
Published on: September 2 2014
Genres: Urban Fantasy, Young Adult
Pages: 384
Format: ARC
Source: Won

Amazon
|
Book Depo
|
Chapters
|
Kobo
 |
GoodReads
This world is trying to kill Lily Proctor. Her life-threatening allergies keep her from enjoying many of the experiences that other teenagers take for granted...which is why she is determined to enjoy her first (and perhaps only) high-school party. But Lily's life never goes according to plan, and after a humiliating incident in front of half her graduating class Lily wishes she could just disappear.

Suddenly Lily is in a different Salem - one overrun with horrifying creatures and ruled by powerful women called Crucibles. Strongest and cruelest of all the Crucibles is Lillian . . . Lily's identical other self in this alternate universe. This new version of her world is terrifyingly sensual, and Lily is soon overwhelmed by new experiences.

Lily realizes that what makes her weak at home is exactly what makes her extraordinary in New Salem. It also puts her life in danger. Thrown into a world she doesn't understand, Lily is torn between responsibilities she can't hope to shoulder alone, and a love she never expected.

But how can Lily be the savior of this world when she is literally her own worst enemy?
*All quotes are from an ARC and may differ from the final version*
Oh. My. Goodness. This book had SO much going on, in a good way! I'm so happy I won this book through GoodReads. Books about witches are my favorite and this one definitely did not disappoint.
Lily had never believed in magic, not even when she'd first found herself transported to this alternate universe, but she believed in it now. Like it or not, she'd just felt magic in her bones.
Lily Proctor lives in our normal world. She's had life altering allergies since she was little and no doctor can figure out whats wrong with her. Her mother is on medicine to keep her sane, because she talks about alternate universes and everyone thinks she's going crazy. Lily's dad left them after her mom started acting this way and doesn't keep in contact with them. She has an older sister, Juliet, who helps out with her mom a lot. Lily and Tristan have been best friends for a long time. Most of the kids at school make fun of her for all her allergies and Tristan has always stood up for her. He's also known around school as a "player". And now Lily is starting to have more intimate feelings for Tristan. Tristan takes Lily to her first party. She's never been to one before because all the smoke from cigarettes just hurts her. Things don't go as well as Lily had hoped. Tristan does something that betrays her trust and the night ends badly. She's been hearing this voice in her head, and since it sounds just like her, she thinks she's just going crazy, but really its Lillian. Lillian is her identical self in another universe and she's trying to take Lily from her universe.
If there were an infinite number of universes, didn't that mean that one of them had to be perfect? And if one of them was a paradise, then did that mean that another had to be hell? Lily wondered how many versions of the world were better than this. And how many were worse.
When Lily finds herself in this new universe, she realizes she's still in the city she lives in, Salem Massachusetts, but it's very different.   The people dress differently and there is a huge castle. The guards think she is Lillian, the Witch in charge of everything in this Salem, and escort her back into the castle. But this Lillian has been very sick and when Lily meets her, she tells her there is a reason she brought her here. In this universe Lily doesn't have her horrible allergies and she is a very powerful witch. There is also a version of Juliet in this world. Lily tries to run from Lillian because she wants nothing to do with what she's saying and she just wants to be back home. Rowan spots her running through town and captures her, because he thinks she's Lillian. Lillian and Rowan have a long past and they used to be best friends and then lovers and then something changed in Lillian. She turned evil and did horrible things to Rowan so he's hated her ever since. He takes Lily into the woods where the Outlanders live (thousands and thousands of people who hate Lillian and are trying to rebel against her). He is also an Outlander. The Outlanders don't believe in magic, they believe in science and Lillian hates them for that.
She splashed water on her face repeatedly, trying to rinse away the memory of sharing his skin. She shouldn't want to wear Rowan like a pair of pants, or swallow him like mouthful of chocolate. It just wasn't right.
Rowan figures out that Lily is not Lillian and he helps train her to be a witch. There is so, so much that happens in this book and I really don't want to spoil it for everyone. Lily finds a love she never expected to find and a true sister in this version of Juliet. She learns so many things about herself and what she truly wants. People try to use her for her power and she learns who she can and can't trust. This book will leave you wanting to know more after every chapter and you will not want to put it down. I loved all the characters so much and the trials they face together help them grow so much through out the story. I will be waiting patiently for the next book in the series and I will be buying Josephine's other series, Starcrossed as soon as possible!
Related Posts