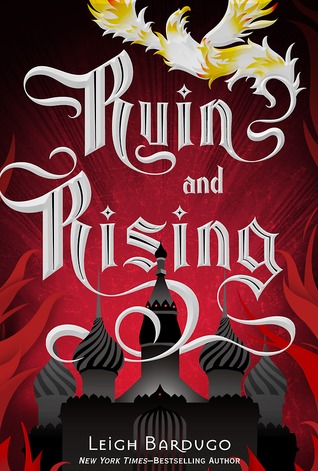 Ruin and Rising

by Leigh Bardugo
Series: The Grisha #3
Published by Henry Holt and Co.
Published on: June 17 2014
Genres: Fantasy, Young Adult
Pages: 417
Format: Hardcover
Source: Purchased

Amazon
|
Book Depo
|
Chapters
|
Kobo
 |
GoodReads
The capital has fallen. The Darkling rules Ravka from his shadow throne.

Now the nation's fate rests with a broken Sun Summoner, a disgraced tracker, and the shattered remnants of a once-great magical army.

Deep in an ancient network of tunnels and caverns, a weakened Alina must submit to the dubious protection of the Apparat and the zealots who worship her as a Saint. Yet her plans lie elsewhere, with the hunt for the elusive firebird and the hope that an outlaw prince still survives.

Alina will have to forge new alliances and put aside old rivalries as she and Mal race to find the last of Morozova's amplifiers. But as she begins to unravel the Darkling's secrets, she reveals a past that will forever alter her understanding of the bond they share and the power she wields. The firebird is the one thing that stands between Ravka and destruction—and claiming it could cost Alina the very future she's fighting for.
Right, so it's been about a month since Ruin and Rising came out, but I know there are still a lot of you who haven't had a chance to read it yet, so NO SPOILERS.
I will, however, be using my trademark vague-ery to discuss the issues I had with this book. There are three. FYI. I may also have a rant (I haven't decided yet), but if I do, I promise that you'll have to CLICK ON IT to be able to read it. Moving on.
I love the X-Men.
I'd like to say that I've loved them since I was a kid, b/c that's when I started reading the comic books . . . but that would be a LIE (b/c not that cool).
I've loved the X-Men since 2000 when the first movie came out. I have a vague recollection of liking the various Superman and Batman movies when I was growing up, but it was X-Men that first spawned my LOVE of comic book movies. And I do LOVE them. My best friend and I love them so much that we regularly go to see them without our husbands on opening weekend, b/c we aren't willing to wait—WE planned for it, why didn't they?
B/c they don't love comic book movies like we do. Aaaannndddd we can always go see it again, if they really want to<——EVERYONE wins!
OR we can always go see it again as long as it's not X-Men: Day of Future Past.
There's a point, I promise.
You see, I have hard and fast rules for books (and movies) with any kind of paranormal elements. In fact, I'm probably more critical of books with magic and creatures, than books without them. One of those rules is, "If you're dead, you're dead."
Unless you're vampire . . . and then you're still kind of dead . . . whatever, you know what I mean.
In the latest X-Men movie, time travel was used as an excuse to kill practically EVERYONE, b/c, "Who cares? We'll go back in time and FIX it." *twirls mustache*
There was no time travel in Ruin and Rising. There was, however, the gratuitous death of beloved characters, b/c, "Who cares? We'll use magic to FIX it," thus breaking what is probably my #1 rule.
Another one of those rules is, "Once a Supe, ALWAYS a Supe."
If you get turned into a vampire, you're going to be a vampire for the rest of your unnaturally long life. If you get bitten and infected with a Were virus, there is no cure. If you're born with magic, you will always have magic. Someone may hinder your ability to use it, but even then, you will feel its lack.
Which is why the only X-Men movie I haven't seen is X-Men Origins: Wolverine. I refused based on it's premise, which is basically that Wolverine wants to be NORMAL. What a load of codswallop. He wants to feel pain? He wants to get old and die? Let's take a quick poll. Who, if they had superpowers, would want to get rid of them?
*crickets*
But regardless of whatever Wolverine thinks he wants (even without having watched the movie), I'm pretty sure it doesn't work, b/c he's still Wolverine in X-Men: Day of Future Past.
And why didn't it work? Hmmm??
B/c, "Once a Supe, ALWAYS a Supe."
View Spoiler »
If you read my review of Siege and Storm, then you know that I knew that Mal was the firebird. But MAN, I was wrong about everything else. It never crossed my mind that Mal-the-Firebird would be anything less than a wonderfully marvelous solution, b/c WHO makes it necessary for the main love interest to DIE in order to SAVE THE WORLD?!

Leigh Bardugo, that's who.

Bloody hell, man.

So we're losing our minds for the last half, or third, or however long it was, of the book trying to figure out how Alina can defeat the Darkling without having to kill Mal . . . HERSELF.

Let's not forget that part—ONLY the person who kills the beast, I mean Mal, can control the amplifier.

*whimpers* *rocks back and forth*

And, OF COURSE, there is no other way, so Alina kills Mal.

*throws book at wall*

But it doesn't end there, NO, it does not, b/c Alina goes on to SOMEHOW (in an it-was-all-part-of-the-evil-mastermind's-plan way that does not even remotely make sense) explode her light into ordinary humans, making them Grisha, which in turn, nullifies her own power. Permanently.

And the Darkling isn't even dead yet. BUT MAL IS.

And if we weren't already rocking back and forth in a corner, we would have been after seeing the Darkling's nearly tangible despair at being alone in the world again (b/c Alina is now an ordinary human).

I know a lot of you loved the Darkling from day 1, but this book was the first time I found him to be a sympathetic character.

But he needs to die. We all know that. If left alive, he will never stop trying to take over the world. It's who he is. But how on earth is Alina going to be able to kill him now that her power is gone?

With a KNIFE. Through the HEART.

*throws book at wall again*

I'm not pointing any fingers, but SOMEONE doesn't get the concept of "subtle."

Then Tamar and Tolya SOMEHOW manage to bring Mal back to life, but not-so-dead-after-all Mal comes back sans his super-trackerness. So now he and Alina are BOTH everyday, ordinary humans.

Awwww, how sweet. Now they can live the rest of their co-dependent lives together. « Hide Spoiler
So in one fell swoop TWO of my biggest Rules for ALL Things Supernatural were broken, and all the melodrama was just icing on the cake.
But Ruin and Rising wasn't all bad. Honestly, it was only in the last 50 or so pages that everything went to hell, BUT it went to hell spectacularly. The beginning was a bit slow, but it adequately communicated Alina's similar frustration at being forced to sit around and do nothing, and when things like that happen, I usually give them a pass, b/c I'm too impressed, on the off chance it was deliberate. If you aren't bothered by my broken rules, then there's a good chance you'll like the final installment of The Grisha  infinitely more than I did, and regardless, if you've read the first two books, it's definitely worth finishing. SO . . . recommended with qualifications.
The Grisha Trilogy:
Was this review helpful to you? If so, please consider voting for it on
Amazon
!
Related Posts