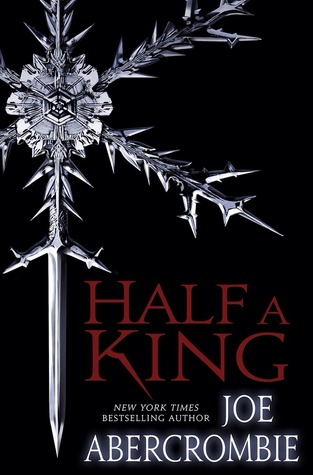 Half a King

by Joe Abercrombie
Series: Shattered Sea #1
Published by Del Rey
Published on: July 15 2014
Genres: Fantasy, Young Adult
Pages: 354
Format: eARC
Source: NetGalley

Amazon
|
Book Depo
|
Chapters
|
Kobo
 |
GoodReads
"I swore an oath to avenge the death of my father. I may be half a man, but I swore a whole oath." 
 
Prince Yarvi has vowed to regain a throne he never wanted. But first he must survive cruelty, chains, and the bitter waters of the Shattered Sea. And he must do it all with only one good hand.
 
The deceived will become the deceiver.
 
Born a weakling in the eyes of his father, Yarvi is alone in a world where a strong arm and a cold heart rule. He cannot grip a shield or swing an axe, so he must sharpen his mind to a deadly edge.
 
The betrayed will become the betrayer.
 
Gathering a strange fellowship of the outcast and the lost, he finds they can do more to help him become the man he needs to be than any court of nobles could.
 
Will the usurped become the usurper?
 
But even with loyal friends at his side, Yarvi finds his path may end as it began—in twists, and traps, and tragedy.
It's not a secret that YA fantasy is second to only UF on my preferred genres list. It's also not a secret that YA fantasy has been falling flat for me recently. With the exception of Heir of Fire by Sarah J. Maas, the last 6 or 8 YA fantasies I've read have been disappointing at best, DNFs at worst.
It was getting to the point that I was doubting myself, thinking that I was in some kind of genre-specific book funk, and maybe I was being overly critical of all these books that everyone else seemed to love . . .
BUT then came Half a King by Joe Abercrombie.
Yes, then came Half a King by Joe Abercrombie, my first Abercrombie, incidentally, but definitely not my last, and faith in both myself and the genre was restored. Oh, I'm still a grouch, and there's a good chance that you might like the books that I've spurned, but Half a King exists on an entirely different playing field. The writing is beautifully compelling—not over-flowery or verbose. It states things simply, in a way that goes straight to that gooey, melty center where your FEELS live.
Yarvi is the second son of a king. The second son born with a deformity that makes him practically useless to his raiding, warmongering father. Yarvi only has one hand, you see. Hard to hold both a sword and a shield if you only have one hand, so Yarvi is half a man in his father's eyes . . . in the eyes of the rest of the warriors as well.
However, Yarmi is clever.
He's nearly ready to take his test to join the Ministry, an order of advisers meant to temper the wrath of kings. He's studied language and lore, medicine and philosophy. Once he passes his test and becomes Brother Yarvi, he will no longer be the deformed, second son of the king. The Ministry will be his family, it's members his new brothers and sisters.
BUT when Yarvi's father and brother are killed by treachery, the crown is thrust upon his head, forcing him into a life he's never wanted, and is ill-equipped to handle.
And MAN, it tears you up. Especially when you read things like, "They hardly looked dead."<——it HURTS.
His path is no longer the path he sought to follow, but Yarvi knows that what's at stake is bigger than his own desires, and he's determined to do the best he can.
But treachery is rarely as simple as it appears on the surface . . .
I don't really feel like I can do this book proper justice, but I'm going to try.
It's devilishly clever. There are enough clear hints to have you bouncing up and down in your chair, going, "Oh, oh!" along the way, and proudly declaring, "I knew it!" in the end, but vague, yet well-blending observations and incidents are also peppered throughout so that when other twists are revealed, you go, "Ooohhhh," in appreciation and instant understanding.
I've already said it was beautifully written, and it was. Abercrombie made me feel sad truths profoundly while simultaneously making me laugh. About the sad truths. And he did this frequently.
And the characters. I have always been a more character-driven than plot-driven reader, and in this book even the villains are tangibly real. When numero uno Bad Guy has his, "Out, damned spot!" moment, you almost feel sorry for him . . . Almost . . .
And who doesn't love a sword-wielding madman? Or a disgraced drunk of a female pirate who, "is too merciful. That has always been [her] fault"?
Or a clever boy facing impossible odds, who refuses to give up . . .
Half a King by Joe Abercrombie is the best new YA fantasy I've read this year. I recommend it to anyone who loves fantasy, YA or otherwise.
Was this review helpful to you? If so, please consider voting for it on Amazon!
Related Posts