Time to Party
Why do you think action is better than romance or why is action more essential in a story than romance.
I think action is better in many ways because it gives the main character, say in this case Gin Blanco, a chance to prove that she's badass. If you toss romance in each and every single situation, it kind of takes the enjoyment out of the story for me.
Gin is a total bad ass, I don't disagree there, but if you don't throw in some romance or romantic interest, she could come across as a hard ass. No vulnerabilities which can make her less likable and can be less than entertaining.
I don't disagree with you on this point. I like a little romance as well. But, say we are in the middle of a fight scene where the bad guys are coming out of the wood work; do you want the action to stop for romance, or continue?
Good point, but if there isn't a little slowing down for romance, don't you get somewhat exhausted? Wouldn't the characters become tired of fight after fight? It can be a little monotonous.
There is a new category that is called Urban Fantasy Romance. It's a hybrid of sorts where you have lots of romance, not necessarily a HEA, and a heroine who kicks major ass. Would this particular labeling appeal to you, or turn you off?
Hmm. I don't know about a new label. I kind of think that UF and PNR already do this, one just focuses more on one aspect than another.
With PNR, the books are all about the romance. What series do you find the most appealing, & why? By the way, The Weird Girls series by Cecy Robson is labeled as UF Romance.
I think that both are appealing for different reasons. I like PNR because you get to root for the characters and their partners and romance. It invests you in the story and the characters. Where as in UF, you are looking for what the bad guy and hero/heroine will do next not necessarily the characters themselves. Take for example the Night Huntress series by Jeaniene Frost. In the bookstores, it is labeled as romance, but it has a lot of action. Cat and Bones are known for being one of the most scorching couples out there (CH 32 ) You also have the Black Dagger Brotherhood series by J.R. Ward. It is for sure PNR, but lately has had a ton of action.
The Night Huntress series, to me, has become nearly laughable, and I hope the series ends on a high note. I still like Cat and Bones, but I really want more adversarial confrontations and serious villains that challenge them at each and every turn. I want action. I can deal with Chapter 32s now and again since that his her repertoire. The one series I cannot take any longer is the Anita Blake series. Too much sex, too little action, too much repetitiveness.
I completely agree with you on Anita. I'm not necessarily advocating sex or constant sex in a book. All I'm saying is that romance, interest, and sexual tension have their perks. They allow readers to be more invested in the characters rather than just the story (which is equally important, but I think you get what I'm saying)
I do, I really do
So what is your least favorite series with romance in it and why?
Wowser, awesome question! I'm trying to think about what my least favorite PNR series is. Unfortunately for me, I follow pretty much the same authors. Sookie Stackhouse is a series I totally gave up on because I lost interest with the characters, and their stupidity.
Me too. I have not read the last two Sookie books.
But Anita Blake for sure is one I gave up on. I absolutely LOVED the first 8-9 books of the series. Yes there was the constant lure of who Anita would choose. But, she was also a brilliant vampire hunter as well as a necromancer. After the ardeur came along, it was just another excuse for the Anita to have sex with 72 different characters in order to feed her hunger. If Laurell K. Hamilton had stayed with the fact that Anita was a powerful necromancer and vampire hunter, I would have continued reading the series.

You want to know my favorite PNR series? It's Charlie Davidson and I would dare anyone to say that they didn't enjoy a little Charlie and Reyes action.
In this case I can agree. It was too much of a good thing (or a crude thing in Anita's case) I'm advocating a romance between one couple. My least favorite series with more action than romance is actually one of my favorite series. Chicagoland Vamps by Chloe Neill. The first few books I was so frustrated with Merit and Ethan because they were perfect for one another and seemed to hold no interest. However, when Neill seemingly removed Ethan from the story (attempting to avoid spoilers), some people were seriously going to boycott the series because they loved the romantic involvement between him and Merit and wouldn't follow the series without it. Action or no action.
I was never one of those that wanted to boycott Chicagoland even though she jumped the shark with Ethan. I'm glad she fixed the problem, but, I wanted Merit to explore other options at the same time. She supposedly a badass, but at times I would like to strangle her.
I would have kept reading the series regardless, but a lot of readers said they wouldn't. The romance between Merit and Ethan invested them in Ethan whereas he might have just been another side character they really liked instead of one they came to love otherwise.
So, here's my stand, UF is definitely more my tastes than PNR because it focuses on things like mythology, action, and location. I will say that throwing romance in between scenes is okay as long as it doesn't spill over for 2-3 chapters. That absolutely annoys and grates on my last nerves.
I can see that. I love UF and PNR. I get frustrated and will likely give up on UF books that have no sexual tension or romantic interest in them what so ever. I get bored if it is just fight scene after fight scene with nothing to mix it up. I also am less invested in the characters because while I CAN root for them to defeat the bad guy, I know that they will eventually win the epic battle. When with romance, there is no guarantee they will end up with the person you want and you never know when it will happen. I can invest myself in the characters in their lives more that way. Or maybe I am just a hopeless romantic!
Nothing wrong with that What UF series have you had issues with in the past? Have you resolved those issues, or moved on?
One UF series I have had issues with is Sookie Stackhouse. I got so bored because nothing really seemed to be moving forward character wise. I eventually moved on from the series and MIGHT visit it again later. Another UF series I read the first one of and wasn't a huge fan is Mercy Thompson. I liked the first book, but to me it had nothing to keep me there. Nothing besides action to hold my attention. I liked it, but I have yet to pick up book 2 (ducks from flying rotten tomatoes) It is kind of like when I watch an action movie on my laptop. If the action scene lasts more than about 10 minutes, I am going to have another widow up browsing Twitter because my interest has waned. (Great question!)
I wouldn't toss rotten tomatoes at you. I would, however, beg you to reconsider, or change your mind. Once Mercy and Adam get together, it is an entirely different series. There is still a lot of action, and danger for Mercy, but the romance is now more involved than before.
See? Even you seem to think a little romance definitely improves the story.
You and I both know that there are so many different PNR and UF series that we can't read them all. I haven't read any of the Black Dagger Brotherhood books and get challenged over it every day.
I will probably read Mercy one day. It is just one of those that I'm not just dying to read next.

OMG!!!!!!! You have to read BDB. Again one of those series that at first is very romance centered (which I preferred of course) but as they progress become more and more action based. The main couple takes a back burner to the action and you get less info on the couple than I would like. I even skip parts that are just action or lesser based on occasion (looks sheepish for skipping parts).
It's like with the Elemental Assassin series. Gin has had 2 lovers over the course of the series. It's been up and down, and I wanted to throttle both of her lovers for treating Gin like crap. However, I must say that the romance is a nice break from Gin getting beaten to a pulp and then saved by her friends. I also understand that the romance has brought new followers to that series.

(That's my problem with too much romance in a story. I tend to skip pages until I find my grove again. Funny, I still haven't DNF'd a book which is totally crazy and unbelievable.)
Exactly. Were as in say, Merit or Anita or Cat and Bones, I cannot see those series without the action. Especially Cat and Bones and her other spin offs. The couple is together so there is none of the tension or excitement over who will they choose or will this couple get together, so you need the action to spice up the excitement while the romance calms things down from time to time.
Here's is another argument of mine against reading certain PNR series. You can have 20 books in a series and my favorite couple may never show up again, or be put into such a minor role, that they are completely drowned out by new ones.
I completely get that point. However, isn't spending an entire book with a character almost better than an entire series where they only get together at the very end, and reluctantly so for most of the relationship at that? One book that comes to mind here is the Sabina Kane series by Jaye Wells.
The Sabina Kane series was interesting in that you knew that Sabina was eventually going to get together with someone. It was just a matter of Sabina putting her emotions behind her and getting on with it.
True, and that romantic aspect allowed you to root for either Spade or Adam two characters you might have otherwise not have been as interested in if there was no hope for Sabina being interested in them.
Shelly's Favorite Action

Chasing Magic: I love the setting, and I can get by with the drug use and slang because the stories are really interesting and intriguing.

Forsaken by the Others: I love the way this book has been set up. I like how Shiarra has come from being scared to death over the Others to the point where she's a little less intolerant of them and actually has some romantic interludes with one especially hot vampire.
Lenore and Shelly's Fav Combo

Lenore: Gin is fantastic, but without her interactions with her lovers, we would never see that Gin has worries and cares too. She just shoves it all aside in the line of duty. The romance makes her a more rounded character.

Shelly: Gin can prove in the action why she is a total bad ass. Everyone in Ashland is scared of her. Let us see why!

Coming August 27, 2013!!
Lenore's Favorite Romance:

The King: The romance in the first half of this series is definitely the focal point. I love it because I was able to really understand the characters and see their development.

The Vampire with the Dragon Tattoo: These books are hilarious and the romance adds spice to the humor that Sparks is so good at! Coming August 27, 2013!!


[author] [author_image timthumb='on']http://i1313.photobucket.com/albums/t550/nocreads/bloggybutton_zpsf8c8c340.png[/author_image] [author_info]
About the Blogger
Nocturne started in 2011 and has been going strong to provide every reader with quality reviews for their favorite books. Nocturne strives to be more than just a review website. We supply interesting interviews, conversation, and fabulous contests our viewers are sure to love. We review almost every romance genre: contemporary, paranormal, fantasy, sci-fi, young adult, suspense, historical, erotica, etc.
NocturneReads.com | Twitter | Facebook | GoodReads
[/author_info] [/author]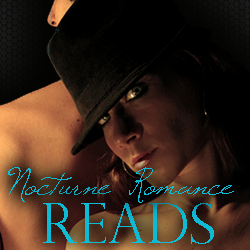 Be sure to check out Shelly's (Gizmos Reviews)
Stomp post before you vote:


Stomp

or

Romp?
Related Posts